Software:
Western Digital includes a few utilities on the drive, which can all be installed from a signal executable. Once launched, the WD Apps Setup utility will present you with the options shown below.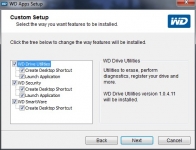 The WD Drive Utilities application provides a handful of different tools, the most useful of which include the ability to securely erase the drive and to run diagnostics on the drive to verify its health. The image below shows the main page of the WD Drive Utilities application...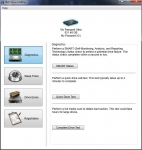 WD Security is an application that lets you set a password to prevent unauthorized access to your drive. Be careful setting your password and password hint, as no one else is going to give you access if you forget! Here we see the interface for the WD Security application...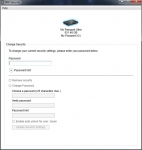 WD Smartware is their backup software that includes an automatic feature to keep your system files backed up without you having to do anything beyond the initial setup. While this software seems to work just fine, I have grown fond of other applications (including the free version of SyncBack) that seem to be more flexible and more useful.
One of the key features mentioned on the packaging and online is the My Passport's ability to backup to the cloud. While having your files in another secure location is great, this implementation seems to boil down to instructions on how to sync your drive with a Dropbox account. Although the information may be valuable to some, nothing is provided that couldn't be done with any other drive - internal or external.