The Basics:
Included in the box is a power adapter, USB 3.0 cable, stand, software CD, a bag of screws, and the enclosure. The only thing that MUKii doesn't include is a hard drive. The enclosure is made out of aluminum, however the end of the enclosure with the connections is plastic. The software CD is the same CD that was previously discussed
here
.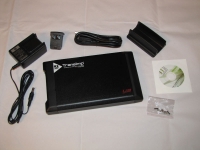 One end of the enclosure can be easily pulled off, and inside we find a hard drive tray with SATA 2.0 connections. There is also a hard drive activity cable to attach to the PCB which controls a blue LED on the front of the enclosure.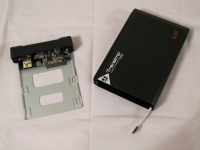 To install a hard drive, connect it to the SATA connections, and then use four of the included screws to attach it securely to the tray. Slide it into the enclosure, ensuring the hard drive tray utilizes the integrated track.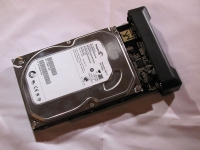 Connections on the MUKii TIP-330U3-BK enclosure include a power switch, power adapter, and a USB 3.0 B connection. The USB 3.0 connection is backwards compatible to USB 2.0 using the same cable.