For those not familiar with
Republic Wireless
, they are a North Carolina based Mobile Virtual Network Operator (
MVNO
). They differ from the other MVNO's out there by offering hybrid calling. Hybrid calling allows you to use existing Wi-Fi networks for calling, text and data. If you are not within range of a Wi-Fi network, in all but the cheapest plan your phone automatically switches over to Sprint's network.


In the case of the Motorola Moto G phone used in this review we are limited to 3G service, but if you opt for the more expensive Moto X you would get 4G LTE coverage where available. While enabling Wi-Fi calling is not new, the purpose is. For instance, T-Mobile offers Wi-Fi calling to supplement poor signal quality, especially indoors. Republic Wireless is offering hybrid calling so that they can offer very competitive rates; starting at just $5/month and topping out at $40/month for unlimited talk, text, and 4G service. But the truth is the real cost savings is on data use. By utilizing these Wi-Fi networks for data whenever possible saves big money for everyone. Below is a chart of available service levels and their costs (
more information here
).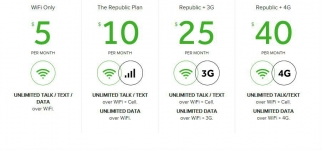 Obviously the prices above are very attractive, but are the devices and the network any good?
Motorola Moto G:
Originally the only phone available from Republic Wireless was the Motorola Defy XT. After the Beta period was over, Republic added the Moto X, and then the more affordable Moto G. Our review unit came directly from Republic Wireless, but unfortunately it came with some abuse at the hands of FedEx. When I opened the package it was clear they tried to reseal the package but the damage was done. Something must have fallen on the box and the bottom edge of the phone took a direct hit. The good news is that while the hit was hard enough to chip off a 5mm piece of the case, the Gorilla glass lived up to the hype. No cracks and the touchscreen functions fine. Due to damage, the images below of the phone are
stock photos from the Republic Wireless site
.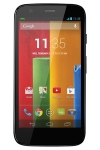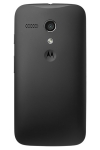 Phone Features and Specifications:
The Moto G comes in two flavors; 8GB ($149) like the one reviewed here and 16GB ($179). Both feature a quad-core Snapdragon 400 processor at 1.2GHz, 1GB RAM, 5MP back and 1.3MP front cameras, Bluetooth 4.0, 2070mAh battery, 4.5" LCD (1280x720) 329ppi, and stock Android 4.4 (KitKat). Unfortunately there is no microSD card slot and the battery is not removable. Despite the price, especially for an unsubsidized phone, it doesn't feel like a budget phone. The screen is sharp and bright and there is no noticeable lag to inputs. Overall feel seems very solid and comfortable in your hand. On the top side of the phone you have your Power/Lock button and right below that is your volume rocker switch. Both are placed well for easy access and use. On the bottom there is a micro USB port for charging and the top has a 3.5mm headset jack. On the back there is a camera, an LED flash, and speaker. Additional phone details below are taken from the
product page on the Republic Wireless website
...
INTERFACE:
» Operating System: Android™ 4.4.2, KitKat®
DISPLAY:
» 4.5" diagonal (11.3 cm)/1280 x 720 HD, 329 ppi
» Corning® Gorilla® Glass
PHYSICAL:
» Size: Width 65.9 mm; Height 129.9 mm
» Weight: 143G
» Curve: 6.0 - 11.6 mm
» Water repellent coating
BATTERY:
» Built-in rechargeable lithium-ion, 2070 mAh
» Mixed usage up to 24 hours
CAMERA:
» Rear-Facing Camera: 5MP at 4:3 and 3.8 at 16:9 (user-configurable)—LED flash—720p HD video (30 fps)
4X digital zoom—Slow motion video—Auto HDR—Panorama—Tap to focus
» Front Facing Camera: 1.3MP 720p HD video
CONNECTIVITY:
» Micro USB
» 3.5 mm headset jack
BLUETOOTH® TECHNOLOGY:
» Version 4.0
NETWORKS:
» WiFi: 802.11b/g/n
» Cellular: CDMA/EVDO Rev A (850, 1900 MHz)
AUDIO PLAYBACK:
» AMR-NB, AMR-WB, AAC, AAC+, eAAC+, MP3, PCM, FLAC, MIDI, QCELP, EVRC, OGG/Vorbis
PROCESSOR:
» Qualcomm Snapdragon 400 processor with 1.2 GHz quad-core CPU
CAPACITY:
» 1 GB RAM, 8 GB standard, 16GB version available
» 2 years 50 GB storage free on Google Drive. Offer must be redeemed within 30 days of activation.