Conclusion:
I wasn't sure what to expect with the
LUXA2
GroovyR, as I didn't expect to be impressed by the audio performance of such a compact, lightweight speaker. At 120mm in diameter by 32mm tall, and just 230g (much of which has to be battery), I didn't think it would have what it took to fill a room with accurately reproduced sound. I was wrong. While the bass from the GroovyR is definitely tame, it covers the full range of sounds very well and there is absolutely nothing tinny about what you hear.
The other major positive for the GroovyR is that the specification for an 8 hour run time is not a trick. So many devices fall short of their published run times, that I expected the same to be the case here. I have exceeded 10 hours of use on a single charge several times now, which is definitely impressive. More than enough to get through a full day at work, and definitely enough to get through a day out by the pool without a break in the music.


While there are two "Cons" listed below, only one really impacted my use of the GroovyR. The flip out holder seemed like a great idea, but it just wasn't practical with any of my devices. The slot provided to hold your device is fairly slim, so if you have a case installed on your phone, tablet, or music player it might be a tight squeeze. If it fits, it will now most likely be standing straight up and down, which doesn't leave it at a very practical angle for interacting with the screen. And in the case of my tablet (just a 7-incher), it makes it prone to tipping forward and popping out of the stand.
Shopping around finds that the LUXA2 GroovyR isn't available at many locations, but you can find it at
Amazon.com
and the
Thermaltake Store
. At both stores the price is
$49.99 (US)
, which causes me to pause for a moment. There are literally hundreds of somewhat similar Bluetooth speakers on the market, with prices ranging from dirt cheap to several hundreds of dollars, and I have not experienced the sound from most of these. While $50 is a more attractive price than many of the higher rated speakers that I would consider competition, there are quite a few well rated units in the $20-$40 range, too. Considering the performance and features, I would definitely say the GroovyR is fairly priced, but with so many different Bluetooth portable speakers on the market it is hard to judge the value.
Considering the performance, ease of use, and that the battery run time easily exceeded the published specification, the LUXA2 GroovyR micro wireless Bluetooth speaker earns the Bigbruin.com "Recommended" award.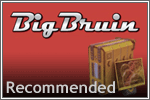 Pros:
» Surprisingly good sound from such a small device
» Easily exceeded the 8 hours of run time mutliple times while testing
» Compact, portable, and lightweight
» Easy Bluetooth pairing and very good Bluetooth range
» Not a rugged device, but it has already survived two drops on to concrete without damage
Cons:
» Holder was not all that practical, especially if mobile device had a case installed
» Mobile app is functional, but wasn't of much use to me
Please drop by the Bigbruin.com Forum and feel free to post any
comments or questions
.