In 2009
Thermaltake
formed a new division called
LUXA2
that was to focus on the rapidly growing "luxury consumer market". Their devices not only offer the functionality that users need, but also feature a strong aesthetic appeal. With mobile device accessories, portable audio products, power bank solutions, and more; LUXA2 takes Thermaltake's innovation in the DIY PC accessory market, and brings it to the consumer electronics accessory market.


This review is going to take a look at one of their newer mobile audio products, the GroovyR micro wireless Bluetooth speaker, which is shown in the promotional image above. This portable speaker measures just 120mm in diameter and 32mm tall, and is touted by LUXA2 as providing a "truly immersive sound experience". Before we take a look at the sample provided for review to see how well it matches that claim, let's take a look at the features and specifications that can be found on the
official product page
on the Luxa2 website.
Features and Specifications:
» Product Name: GroovyR 360 Micro Wireless Wall Mount Speaker
» Dimensions:
» Length: 120mm
» Width: 120mm
» Height: 32mm
» Part Number: AD-SPK-PCGRSI-00
» Bluetooth: V2.1+EDR
» Wireless range: In 10meters(open area)
» Capacity: 1,050mAh / 3.7V Li-Polymer
» Input: 5V0.5A Micro USB
» Audio output: 3W+3W
» Playing time: Up to 8 hours
» Others:
» A2DP(Audio Sink only),
» AVRCP(Remote Control only),
» Hands free(Built-in Mic)
» Wall Speaker
» Holder function
» LED indicator:
» LEDx1
» Pairing : Blue (flashing)
» AUX-IN: Green(flashing)
» Charging : Red
» Material:
» Upper Casing : Aluminum
» Cabinet : Plastic
» Weight: 230g
Packaging and Accessories:
The
LUXA2
GroovyR micro wireless Bluetooth speaker is sold in a well detailed box that isn't much bigger than the speaker itself. The front of the box provides a few details about the speaker's capabilities, while a small circular window lets you see the brushed aluminum ring found around the edge of the speaker grille. The back of the box provides much more information, including details on the buttons, connectors, included accessories, and the device capabilities.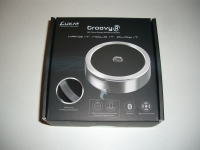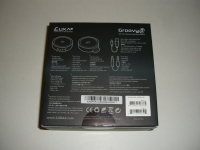 Inside the box we find a clear plastic tray which holds the speaker in place, and separates it from the included accessories. The below right image shows these accessories, which include a soft cloth carrying bag, a USB charging cable, a 1/8" audio patch cable, and a quick start guide. In addition to being a Bluetooth connected audio device, it does have a line in connection, so the inclusion of a patch cable makes sure you have everything you need to connect this speaker wirelessly or wired.