Packaging and Accessories:
Sometimes when you order refurbished items; it's never clear on what type of shipping material a seller might use. In this case, the
LG
Flatron W2340VG 23-inch widescreen LCD monitor was shipped from
Geeks.com
in the original retail box. This box is the same as what you would see at other stores like Best Buy, Wal-Mart, Frys, etc. The top and bottom of the box are identical, and they both have the LG logo as well as a couple promotional images of the monitor at different angles. The box also labels it well as a "wide LCD" monitor and has several features displayed. Those features include full HD native presentation, ez control menu buttons, original ratio, and picture effect controls. Those same features are displayed on the sides of the box as well, along with a sticker with the model / serial number and the word
RECONDITIONED
in big letters.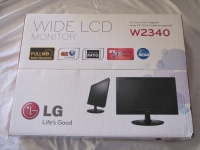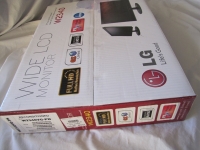 Upon opening the box the LG W2340VG was packed in, we find nice Styrofoam packaging holding it very well. The monitor and base were also wrapped in plastic to prevent anything from scratching them during shipment. On top of the Styrofoam packaging is where the accessories were placed. As you can see from the bottom right picture, there is also a sticker on the monitor itself labeling it as a refurbished item.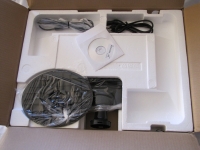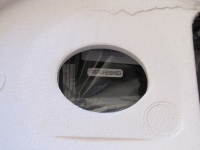 The accessories shipped with the LG W2340VG included a power cable, a VGA cable, the stand, and a CD that includes an electronic copy of the user guide as well as some warranty information. I was surprised that a DVI or HDMI cable were not included in the box. With the monitor able to display full HD, I would think LG would include one or both of them.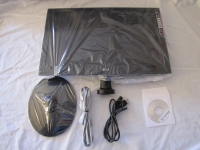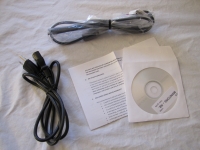 The monitor and the stand were shipped in two separate pieces and are very easily placed together. Once together a bow tie lock on the bottom of the base is easily turned clockwise to lock them together securely.