Cables:
We finished the previous page looking at the modular connectors on the Kingwin Mach-1 1000W power supply, now let's take a look at the modular cables, as well as the few hard wired cables. The list below details all of the connectors provided...
1 x Main connector (20+4Pin)
1 x 12V(P4)
1 x 12V(8Pin)
8 x peripheral
8 x SATA
1 x Floppy
4 x PCI-E
This first image shows the back of the power supply once again, this time to emphasize the three hard wired cables. You have a 24-pin motherboard connector, an 8-pin 12V connector, and a 4-pin 12V connector. These cables all feature black mesh sleeving with heat shrink ends, and the lengths seem adequate to reach just about anywhere in even a full tower case.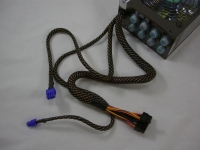 The next image shows the collection of eight modular cables. The top row shows the four PCI Express cables, while the bottom row shows a pair of "peripheral" cables and a pair of SATA cables. Of the PCI Express cables, two are strictly 6-pin, while the other two are 6+2-pin. The two "peripheral" cables provide four 4-pin Molex-style connections each, with one adding a single floppy connection. The two SATA cables each feature four SATA power connections.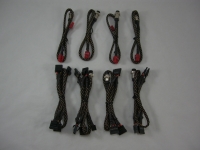 The below left image takes a closer look at one of the SATA power cables. Here we can see the threaded metal coupling, as well as the keyed plastic insert which will slide into the connection on the power supply housing. With this cable and all the others, you align the keyed portion, slide it in to the coupling slightly, and then engage the threads to lock it in place.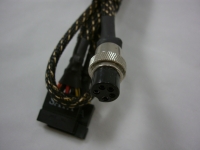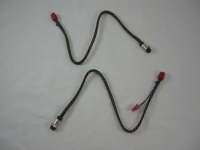 The above right image shows one of each of the two styles of PCI Express cable. We have a 6-pin cable on top and a 6+2-pin cable on the bottom. These cables are finished just like all of the others, with black mesh sleeving and heat shrink ends. Everything looks well done, and the lengths seem adequate. While I was able to reach everywhere in a large tower case, I did find that the PCI Express cables weren't quite long enough to manage the cables as I would like. I prefer to keep things hidden around the edge of the motherboard or behind the drive cages until I get to the graphics cards, but for the lower of my two cards, I had to take a more direct route which left the cables more exposed.