Kingston
offers memory products ranging from standard desktop memory to flash memory for portable electronics. Today we will be evaluating a class 10 rated 128GB Secure Digital Extended Capacity (SDXC) flash memory card from Kingston. For those of you who may not be familiar with SDXC, think of it as the extension of the familiar SDHC format that allows for capacities above the 32GB limit found with SDHC cards.


Kingston's 128GB SDXC flash memory is primarily aimed at photographers taking HD video or long bursts of photos. A secondary audience might be a tablet power user who wishes to take advantage of the high storage capacity made possible by SDXC technology. Before taking a look at the card provided, let's look at some published data on the card, as taken from the listing at
Amazon.com
...
Features and Specifications:
» Minimum data transfer speed: 10MB/s (Class 10 SDXC)
» Built-in write-protect switch prevents accidental data loss
» Compatible - with SDXC-enabled devices/readers
» Supported File Formats:
» FAT32 (SDHC 4GB-32GB)
» ExFAT (SDXC 64GB-128GB)
» Reliable - lifetime warranty, free technical support
» Product Dimensions 0.94" x 1.25" x 0.08" (24mm x 32mm x 2.1mm)
» Shipping Weight: 1.6 ounces
» Item model number: SDX10V/128GB
The Kingston 128GB SDXC flash memory has the same theoretical transfer speeds as SDHC UHS rated flash memory - both have theoretical transfer speeds of up to 104MB/s. The SDXC format is not backwards compatible with SDHC readers or devices however. One issue is that by default the SDXC cards are formated in the Microsoft exFAT format. At a minimum this card will transfer at least 10MB/s, hence the "class 10" designation.
The Basics:
As with most Kingston devices today, the plastic blister pack containing the SDXC flash memory highlights very little about the product inside. The 128GB storage capacity, the class 10 speed rating, and the fact that this flash memory uses the SDXC format is about all the information your going to find documented.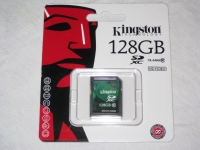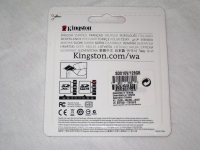 Here are pictures of the front and back of the Kingston 128GB SDXC card next to a standard US quarter.