Packaging and Included Accessories:
While the packaging of the product keeps the contents secure, I found it is completely lacking details on what is actually inside. On the front of the box it indicates it is a reader and media streamer for SD cards and USB devices, as well as a built in mobile device charger. Sounds good, but searching the rest of the box for details on these capabilities provides no further detail. So the potential buyer has no idea which formats of SD it can handle, how large the battery is, or even how long they might expect it to run. It does however clearly show that apps are available at both the App Store and Google Play. While this lack of information may affect sales at retail locations I suspect most sales will be from online sources. Currently only Amazon is selling the device, but soon Staples should have it too.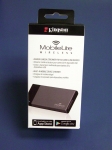 Sadly the documentation doesn't get any better when you open the box. The "Getting Started Guide" has little information about the device and only provides screen shots for the iOS app. When I first saw this device at a show it was demonstrated with iOS and we were told the Android app would be available at launch. I suspect this insert needed to be completed before the app was available, hence iOS instructions only. In truth the app set up is very similar. But those who have issues, unless they can follow pictures, may have difficulty especially since there are no additional instructions at Kingston's site.
Once you open the box you'll find the MobileLite Wireless, a Getting Started Guide, the USB to micro USB cable for charging and a micro SD card to SD card adapter.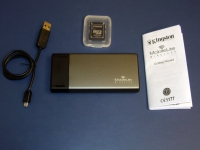 Not included with the device, but provided by Kingston for the purpose of the review, is a 32GB Class 10 microSD card, and an additional micro SD to SD adapter and a micro SD to USB adapter.