Performance:
There really isn't any set up for this device other than charging it; which I did initially using the AC adapter. I have since verified the DC adapter functions as well. Charging times will vary based on how much is left in the three cells, but when I charged from a very depleted state it took approximately 4 hours on AC. Since the AC adapter is rated for 1A at 15V we should have been adding 15W per hour. In the 4 hour charge time we would have theoretically supplied 60W or 60,000mW which is considerably more than the battery size stated.
Flashlight
: I appreciate the on/off switch on the back, this keeps you from inadvertently draining the battery should the button get pressed in storage. Overall I think this form factor yields a very useful flashlight. It is just natural to hold to take a look around your engine bay or safely walk to the next home or service station. The light itself is plenty bright in full mode and was adequate in low mode to walk in even terrain. Below are a few images showing what you can expect in each mode and versus a 1000 lumen flashlight. As you can see there is a hot spot in the center but it does provide quite a bit of light in the foreground to illuminate the terrain directly in front of you. I would actually prefer this flashlight to the larger 1000 lumen flashlight because of the near field lighting. In fact I found the light output to be good enough to not carry a separate light in the car. While I did not test run times in the other modes; I did find the flashlight lasted over 8 hours on high. This is way more than I would have expected and certainly more than enough for you to make it to the next house or service station if you had to walk. The only perplexing thing is that theoretically it should have only lasted 4 hours and 37 minutes. This is based on their spec of 37000mWh battery and a drain of 8W. So either the battery is a larger capacity than quoted or the LED chip is more efficient and is still making 330 lumens but with less wattage consumed. Based on the AC charge time I suspect the battery inside is bigger than they are quoting. Theoretical battery size could be estimated by taking the run time (8 hours) and multiplying it by the load (8 W) which gives you 64Wh (64,000mWh).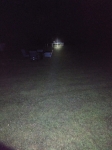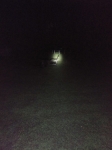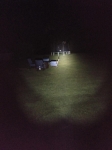 Power Bank
: As with all the features of the JumpSmart you first need to slide the on/off switch to the on position. This really is a great idea to make sure it is ready when you need it. Inside the device are (3) 3300mAh batteries, so you could potentially recharge your phone around 3 times. The USB port is rated for 5VDC with a 2.4A output. This is fast enough that should you need to top off your battery you won't be waiting forever. In fact in testing I found it indicated it was charging under AC just like my dedicated OEM charger and it was able to charge the phone from 67% to 100% in about 60 min which is in line with the OEM charger. This was a rate of about 0.55%/min.
Jump Starting
: When I had the other jump starter in house I had a vehicle sitting around that was dead as a doornail. That device had a slightly smaller battery but quoted the same 200A/400A capacity as this JumpSmart. That device had trouble starting a 1.8 liter turbo, so I am somewhat skeptical of the lofty 5.0 liter 8 cylinder claims. But they did have this verified by an outside lab, so I hope this capability is real. At this point all of my vehicles have functional batteries and charging systems so I am reluctant to do any significant damage just to test this unit. But what I did confirm was that if you left your lights on long enough that the voltage dropped to the 10-11V range this did get the vehicle started. I was also able to jump start a quad that had been sitting for a bit.
Really the JumpSmart is just much easier to use than jumper cables. While most people can handle following the color code of the connectors, some do get confused. The JumpSmart eliminates that possibility by checking the connection before allowing anything bad to happen. Also, with this device both clamps attach to the battery terminals. When you jump a vehicle the last negative clamp should go to a ground point in the engine bay. With many modern engines it is hard to find a good ground with all the protective covers which further complicates their use. Another disadvantage to jumper cables; most people pull into a space head on, so if your battery dies it can be difficult to make the connections if the donor vehicle is far away. The JumpSmart is parking position independent.