External Examination:
The images below provide a look at the 64GB Imation M-Class SSD. There isn't too much you can do differently with an SSD while maintaining a 2.5" SATA drive form factor, but the metal finish and embellishments on the cover do give it a bit of visual appeal.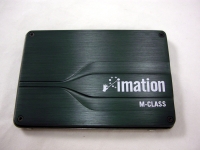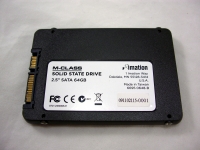 On the bottom of the drive there is a label that provides some product specific data, company information, and the symbols of the applicable certifications.


Internal Inspection:
Having a look at the inner workings of this Imation SSD wasn't the easiest task. While most use allen head screws to hold the cover on, here we have the far less common Torx style screws. I wound up bringing the drive and my camera to a machine shop in order to borrow their tools and counter-top for this portion of the review.
In the images below we get a look at the Phison PS3016-S3 controller, the eight 8GB Toshiba MLC NAND chips (TH58NVG6D2ELA48), and the 64MB Hynix (HY5DU1216220TP-D43) cache memory chip. Phison isn't the most common SSD controller on the market, but you will find them in a few popular brands these days.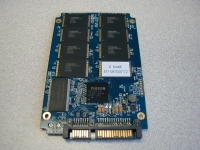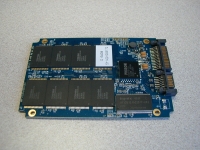 The back of the PCB is printed to accept up to eight more flash memory chips, suggesting that the same board is used for their 128GB version.