Testing (continued):
PassMark Performance Test v7.0:
PassMark Performance Test v7.0 was executed next. Only the memory portion of this suite of tests was used, and the chart below shows results for Large RAM (OP/s), Write (MB/s), Read Uncached (MB/s), Read Cached (MB/s), Allocate Small Block (MB/s), and Memory Mark (unitless).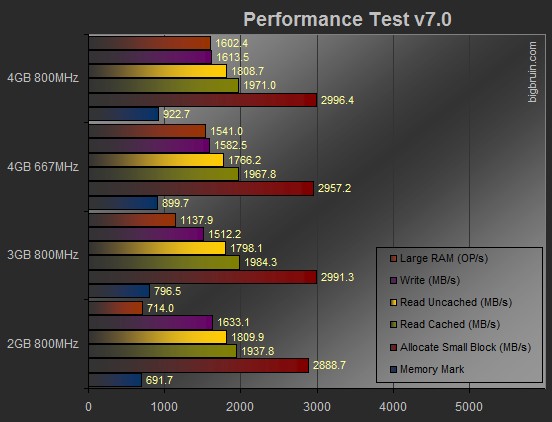 Higher numbers are better for all results, and here we see that the 4GB 800MHz kit is the winner in most, but not all tests. Focusing on the Memory Mark value does reveal quite a boost as you move up in capacity, and even when moving from 667MHz to 800MHz at 4GB. These results are more inline with what I had expected to see.
FutureMark 3DMark Vantage Professional 1.0.1:
3DMark Vantage was executed in Performance mode, which uses a resolution of 1280x1024. This test required the use of an external monitor since the native resolution of the laptop is 1280x800. Higher is better for all values.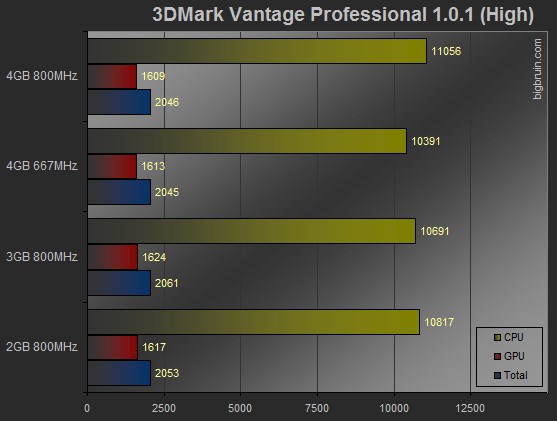 The results here are a bit odd... The CPU performance is best with 4GB of 800MHz memory, while the GPU and total score are about the worst. With 3GB of 800MHz installed, the system put up its best total score and GPU score.