We have covered a wide variety of high performance system memory in reviews at Bigbruin.com. From back in the day when a 512MB dual channel kit of DDR 400 was worth considering, all the way up to 6GB triple channel kits of DDR3. One thing we have not yet reviewed is laptop memory, something many users might not realize is even available in 'performance' configurations.
With memory prices at about an all time low, and with the rise in popularity of DIY gaming laptops, the product provided for this review seems to be well timed. What we have is a 3GB
Kingston
HyperX PC2-6400 SODIMM memory kit, actually two of them. These kits consist of a 1GB module and a 2GB module, which while being unbalanced, provides the maximum amount of memory that a 32-Bit version of Windows will be able to address. By taking two of these 3GB kits we can configure a laptop with either 4GB, 3GB, or 2GB of memory for comparison purposes. As it turns out, Kingston also offers these modules in 4GB and 2GB dual channel kits, so we'll have a good idea of what to expect from them, too.


The promotional image above provides a quick look at a 3GB kit of Kingston's HyperX SODIMMs. Before taking a closer look at the sample provided for review, let's take a look at some of the published data regarding this memory.
Features and Specifications:
» Part Number: KHX6400S2LLK2/3G
» Capacity: 3GB
» Speed: 800MHz DDR2
» Timings: 5-5-5-18
» Voltage: 1.8V
» Type: 200-Pin SODIMM
If you were to be in the market for the 2GB kit, look up part number KHX6400S2LLK2/2G, while the 4GB kit is sold as KHX6400S2LLK2/4G. All three kits are considered low latency, as 5-5-5-18 is rather good for a laptop. That said, Kingston does offer one lower latency 800MHz kit, KHX6400S2ULK2/4G, which offers impressive 4-4-4-12 timings.
Packaging:
The packaging for this HyperX PC2-6400 SODIMM memory kit looks like what you would expect with any Kingston memory product. As a matter of fact you can see that it was obviously intended to accommodate full length modules as well as SODIMMs.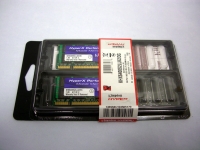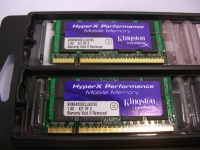 The sticker on the box provides plenty of information on the kit inside, and you can see the data label on each module for confirmation of much of this data. Underneath the tray keeping the modules in place is where a rather generic insert is found which provides basic user instructions.