Test Setup:
The system to be used in this review features the following components:
» AMD Athlon II x4 630 processor with a Cooler Master Hyper 212 Plus heatsink
» Gigabyte 880GM-UD2H uATX motherboard
» Western Digital WD2500 Caviar SE SATA drive
» nVidia Quadro FX1800 PCIe video card
» Cooler Master EPS 12V 750 watt power supply
» Windows 7 Ultimate 64-Bit operating system
Our test system ran on an open bench in a room with an ambient temperature of 26 degrees Celsius.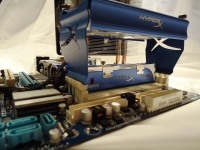 The screenshots below confirm what CPU-Z had to say about this memory kit. Of interest is that this is technically a 1333MHz kit that Kingston has rated for 1600MHz operation.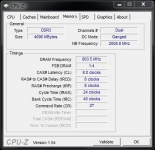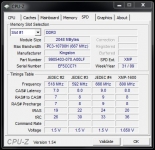 Testing:
The testing portion of the review will have this
Kingston
HyperX memory kit matched up against the popular
OCZ Technology Obsidian 4GB PC12800 1600MHz 9-9-9-24
dual channel kit, and a pair of 2GB Elpida PC10600 1333MHz 9-9-9-24 sticks (Elpida is a memory manufacturer whose chips are used by most vendors, in this case they were HP OEMs).
The HyperX kit was tested at both stocks settings (1600MHz and 8-8-8-24) and with a fairly decent attempt at an overclock (1864MHz and 11-11-11-24).
The tests to be executed include benchmarks from four applications, as listed below.
» Windows 7 Experience
» Sisoftware Sandra Professional 2009.SP4
» PassMark Performance Test v7.0
» Lavalys Everest Ultimate Edition 5.30.1900
Windows 7 Experience:
Windows 7 comes with a built-in benchmark that gives you a snapshot of key system components and rates them on a scale of 1.0 (worst) to 7.9 (best). For this last benchmark, we look specifically at the memory score. As you can see from the graph below, the HyperX set turns in a respectable 7.3 at stock, but bumps up to 7.4 overclocked. Further overclocking or tighter timings might be able to push this past the 7.5 mark.