Back in March of 2015,
Kingston
announced the Predator line of SSDs, which represents their highest-end and fastest solid state drives offered to date. The HyperX Predator drives come in two capacities (240GB and 480GB) and both are available as M.2 SSDs that are sold on their own, as well as bundled with a PCI Express Generation 2.0 x4 adapter. When installed in a PCIe x4 slot, the drives are advertised to offer 1400MB/s read and 1000MB/s write speeds, which is blazing fast, and faster than SATA based SSDs.


The promotional image above shows the subject of this review - a Kingston HyperX Predator 480GB M.2 SSD mounted to the PCIe adapter. We will take a look at just how fast this thing can really go, and how it compares to some of the faster drives we have looked at over the years. Before getting to that, lets look at some of the features and specifications, as taken from the official product page on the Kingston website...
Features:
»
Fast
— PCIe connection provides higher speeds than SATA-based solid-state drives for the ultimate computing experience
»
Blazing performance
— ultra-responsive multitasking and overall faster system
»
Reliable
— rugged and durable to take your system to the edge
»
Form factor
— M.2 with optional Half-Height Half-length adapter to fit in both new and older motherboards
»
Guaranteed
— three-year warranty and free technical support
Specifications:
» Form factor: M.2 2280
» Interface: PCIe Gen 2.0 x4
» Capacity: 480GB
» Controller: Marvell 88SS9293
» Baseline Performance:
» Compressible Data Transfer (ATTO): 1400MB/s Read and 1000MB/s Write
» Incompressible Data Transfer (AS-SSD and CrystalDiskMark): 1100MB/s Read and 910MB/s Write
» IOMETER Maximum Random 4k Read/Write: up to 130,000/ up to 118,000 IOPS
» Random 4k Read/Write: up to 117,000/ up to 70,000 IOPS
» PCMARK® Vantage HDD Suite Score: 139,000
» PCMARK® 8 Storage Bandwidth: 336MB/s
» PCMARK® 8 Storage Score: 5,017
» Anvil Total Score (Incompressible Workload): 6,700
» Power Consumption: 1.38W Idle / 1.4W Avg / 1.99W (MAX) Read / 8.25W (MAX) Write
» Storage temperatures: -40°C~85°C
» Operating temperatures: 0°C~70°C
» Dimensions:
» 80mm x 22mm x 3.5mm (M.2)
» 180.98mm x 120.96mm x 21.59mm (with HHHL adapter - standard bracket)
» 181.29mm x 80.14mm x 23.40mm (with HHHL adapter - low-profile bracket)
» Weight:
» 10g (M.2)
» 73g (with HHHL adapter - standard bracket)
» 68g (with HHHL adapter - low-profile bracket)
» Vibration operating: 2.17G Peak (7-800Hz)
» Vibration non-operating: 20G Peak (10-2000Hz)
» Life expectancy: 1 million hours MTBF
» Warranty/support: 3-year warranty with free technical support
» Total Bytes Written (TBW): 882TB 1.7 DWPD6
Note that the specifications show that the device uses an x4 PCIe slot, which is key to achieving the performance levels indicated. Using the SSD in a native M.2 slot may reduce the available bandwidth if the slot does not have four data lanes of its own, and prevent you from achieving the published speeds. That is OK with me, since I don't have an M.2 slot to test in anyway. It seems that X99 based motherboards typically include a M.2 slot with four lanes, but users should check their board specifications before purchasing a Predator.
Packaging and Accessories:
The packaging for the HyperX Predator 480GB PCIe M.2 SSD is shown in the two images below. It provides a good look at the product, a bit of information on what it can do, and overall the packaging looks like this predator may have already drawn blood from its prey.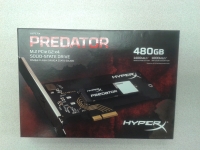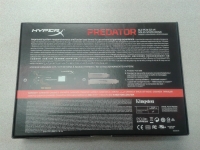 The below left image shows what you find when you open the box... A piece of foam which has been cut to include the HyperX logo. Underneath this sheet of foam is the M.2 SSD mounted to the PCIe adapter with the full height expansion slot bracket pre-installed. A half height bracket is also included, allowing you to install this in full size or small form factor systems.