Testing:
Now it's time to test the cooler and see if it really does provide "superior heat dissipation". In our testing, we used our trusty HP Compaq 6710b laptop, as featured in the recent review of the
500GB Seagate Momentus drive
. Its Centrino-based motherboard and Core 2 Duo processor should provide us with plenty of heat when sufficiently stressed. For testing, we used CPUID's
Hardware Monitor 1.1.3.0
for gathering our data. We stressed the system using several instances of Prime95 and running loops of
SiSoft
Sandra 2009.1.15.72's Burn-In tool.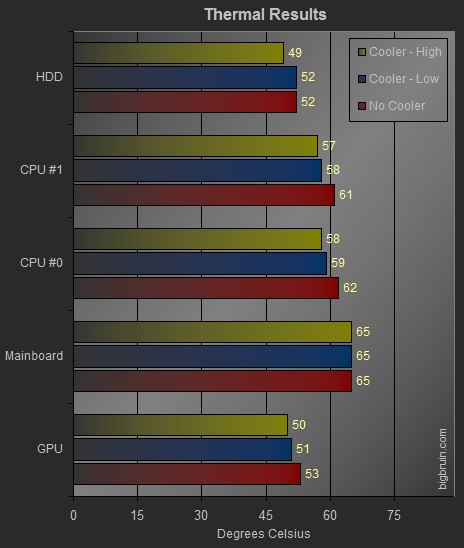 A quick look at the numbers shows that with the fan set to the lowest setting, there was some benefit, although nothing earth-shattering. Across the board, we saw about a 2 degree drop in temperatures on the low setting, and about a 3.5 degree drop on high. By cranking the fan to high, we see just a very slight drop in temperatures; the temperatures on the motherboard sensor was completely unaffected by either fan setting. It seems that by merely elevating the laptop, we could drop the temperatures as much as by using the cooler on its lowest setting. To test this theory, we placed the laptop on a wire rack and ran the same series of tests; basically allowing the built in cooling vents more room to breathe. In the end, the temperatures were identical to the ones we saw on the lowest fan setting.