We recently fired up the thermal imager and took a look at a
Galaxy GT430 1GB video card
. That bit of warm up got us familiar with the thermal imager, as well as the software associated with it. This time around we're going to use it to take a look at a video card who's thermal profile may be of more interest to gamers... the ASUS EAH6870 1GB video card
reviewed here
.


The thermal imager used is a
Fluke Ti32
, which captures fully-radiometric images in .is2 format. These files can then be analyzed for thermal data, and can be exported to both infrared and visible light image files. Each image we will look at in this article will include an infrared view, as well as a visible light view for reference. A hot spot identification feature that we didn't use last time will now be implemented to pinpoint where the highest temperature in each image can be found.
Thermal Images - Idle:
The "idle" condition was established by powering up a system with the EAH6870 1GB that was merely sitting at the Windows desktop. The motherboard is laid flat on an open testbed, so the video card can be viewed from just about any angle.
The first set of images were taken from the connector end of the card, as if you were looking at your system from behind the case. At idle we see that the entire card is colored purple and blue, meaning that nothing visible was exceeding 100F (or roughly 38C).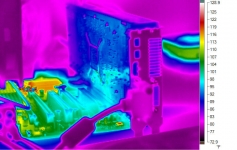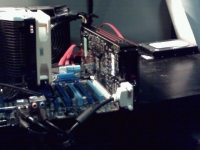 Moving the imager to be above the CPU cooler and taking a top down look at the video card reveals more of the same. At idle this card definitely runs cool.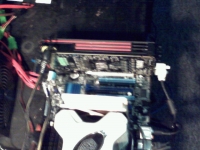 The next set of images were also taken from a top down perspective, but this time from just above the video card. While all is cool on the EAH6870 1GB, you can see chips on the motherboard are already getting hot!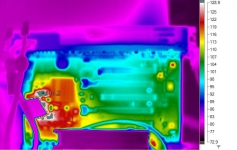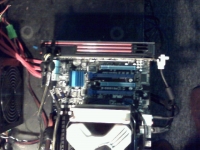 Taking a look at the face of the video card isn't going to tell us much because the cooler has a shroud that stretches from end to end. You need the cooler in place for the card to function properly, but it would be nice to see past it for the purpose of this article. Seeing that entire surface is in the 80F range, it is clear that all useful thermal data is probably going to come from the backside of the card. If there is extreme heat to detail, we'll have to look for it bleeding through the PCB.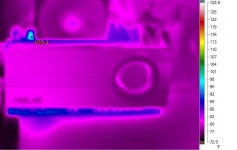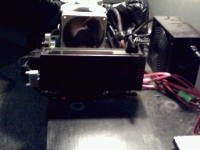 At idle the ASUS EAH6870 1GB card can definitely keep itself cool. In the next section, we'll look at shots from roughly the same angles while the card is stressed by FurMark in order to get it all warmed up!