Testing (continued):
FutureMark 3DMark Vantage:
FutureMark's 3DMark Vantage will be the first test to discuss, and it was run in two different modes. The complete set of tests were first executed in Performance mode, which uses a 1280x1024 resolution. We'll take a look at just the GPU and Total scores, and higher values are better for both.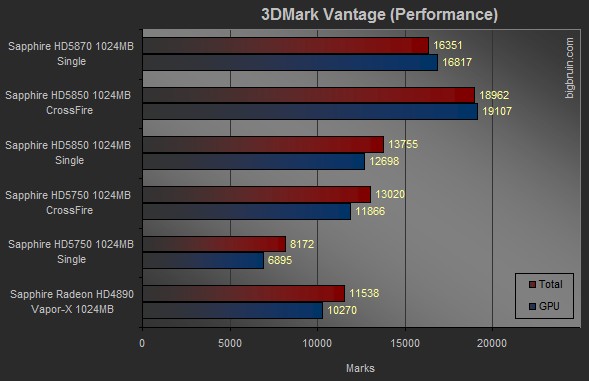 The Vapor-X Radeon HD5870 can't beat a CrossFire configured set of HD5850 cards, but it does do rather well. Compared to the single HD5850, the Vapor-X HD5870 puts up a GPU score which is over 32% higher.
3DMark Vantage was run a second time on each setup, this time in High mode which uses a 1680x1050 resolution. This time the GPU score increased by almost 40% when comparing the Vapor-X Radeon HD5870 to the Radeon HD5850.