Conclusion:
Wait, I already did that at the beginning of this review. Guess that means I'm done. OK, well not quite. Overall I am very impressed with the Cooler Master HAF XM mid tower case; from start to finish the design of this case is top notch. There are no sharp edges, everything fits well together, nothing in it feel flimsy, and every detail that I could think of has been thought of in its design. If you're building a monster system with multiple video cards, hard drives, water cooling, and multiple optical drives or whatever else, this case can handle it.


While running an AMD x4 965 CPU at 3.8GHz on stock cooling and a Radeon 6790 under load, I was barely able to move them above idle - only about 10%-15% higher while running 3DMark. So there is a lot of air moving in this case.
Sadly I cannot give this case a perfect review, as there are two minor areas which I think they could improve. The first is by adding a filter to the intake fan(s), if you live in an area like I do that has very low humidity, you will get a lot of dust flying around. I would really prefer as little of it as possible gets inside my computer so a washable filter would be a great addition to this case.
Lastly, the sticker they put on the front X-dock doesn't come off without leaving a lot of it behind. So much that your choice is to pretty much leave it on, or spend a lot of time cleaning it off. While I understand it's a warning label; many enthusiast are very concerned about the appearance of their system and that little sticker is going to be a sticking point for them.
Overall, this may be the best case I have ever seen or used to build a computer. While the colors might not be right for everyone, the design is pretty much flawless. My hat's off to the
Cooler Master
engineers and marketing staff for listening to what builders want and then building it.
With what looks like
a street price of just under $130
, this case is easy to recommend. That said' it earns the Bigbruin.com "Recommended" and "Good Value" awards.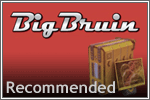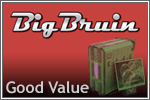 Pros:
» Plenty of drive bays
» Plenty of large fans to keep the air moving
» Low noise output, despite all those fans
» X-Dock hot-swap drive days
» Designed to make a neat installation a snap
» Fairly priced for a case of this caliber
Cons:
» Dust filters on the intake fans would be nice
Please drop by the Bigbruin.com Forum and feel free to post any
comments or questions
.