Testing:
To test the Seagate FreeAgent GoFlex Home 1TB drive, the following base system was used:
» Intel Core 2 Duo E6750 (2.66GHz) processor
» Gigabyte GA-P35C-DS3R motherboard
» eVGA GTX 275 PCIe video card
» Seagate 80GB SATA 3Gbps hard drive
» Seagate 1.5TB SATA 3Gbps hard drive
» 4GB OCZ Technology Gold 1333MHz DDR3 memory
» D-Link DIR-655 Xtreme N Gigabit Router
» Windows 7 Ultimate 64-bit operating system


The tests shown below were completed with the same files and testing procedure. Each test was completed three times and the average transfer time was recorded for each drive. The transfer time was obtained by using a stopwatch to record the time it took to move the files to and from the Seagate Home. In addition, the same files were transferred to Patriot's Corza NAS, with dual Seagate 1.5TB hard drives in a RAID 1 configuration.
Below is a chart detailing how long it took to transfer a 4.1GB ISO file to the NAS devices. As the times show, the Seagate Home transferred the files in about 1/2 the time as the Patriot Corza.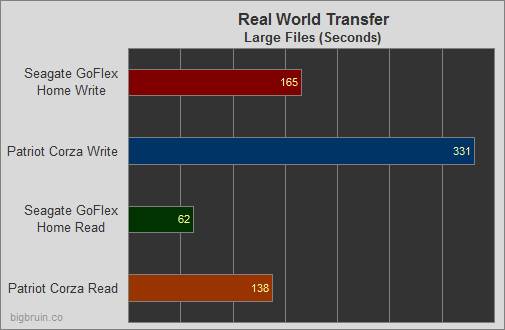 The next test was done transferring 4.3GB worth of MP3 files. Once again the Seagate Home outperforms the Patriot Corza, but this time it was only about 40% faster.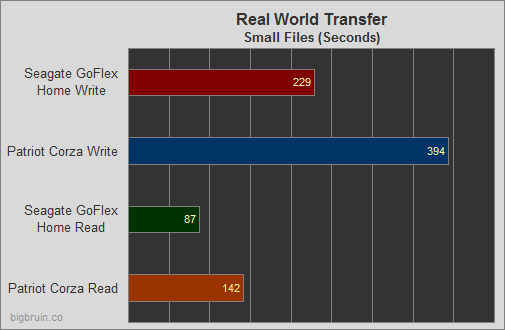 As both of these benchmarks show, the Seagate Home performs rather well when compared to the Patriot Corza. However, it should be stated that the Corza is a different style of NAS. Where the Seagate Home has one drive, the Corza has two configured in RAID 1 (files from one drive are copied automatically to the other), which could provide a reason for the difference in speed.