Packaging and Accessories:
The
Genius
Ergo 8800 is sold in the retail packaging shown below. The clear plastic box features full color inserts with plenty of product details, as well as providing a clear view of the mouse itself. On the front of the box the mouse is touted as having the ability to run for up to 36 months on one set of batteries, which would be pretty impressive. Unfortunately we'll have to come back to that claim in a few years, as we've only had the mouse on site for 2 weeks (and so far so good on battery life).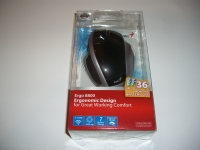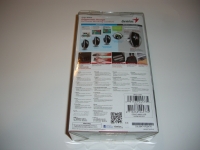 The back of the box provides plenty of information, much of which is focused on the special functionality within Windows 8. The condensed version of these Windows 8 features (as taken from Amazon.com) says you can
"Quickly navigate to switch between apps and to open up the Charms panel. Or you can simply toggle between Windows 8 Metro interface and the last app used."
We will be testing this mouse on Windows 7, and while it may not be able to provide the previously described bonus features, I can confirm that it works just fine which may be questioned since the features and specifications only mention Windows 8, Vista, and XP.
Inside the box, the mouse is secured in a form fitting clear tray, which can be seen in the image below. There are also locations for the "Stick-N-Go" bracket, the included AA batteries, and the very compact USB "pico" receiver. Stick-N-Go describes the ability to attach this small bracket to any smooth surface via pre-installed double-sided tape, and then the mouse clicks on to it for a fairly secure means of storing your mouse. You could stick to the lid of your laptop, side of your monitor, or anywhere else that might seem convenient for you.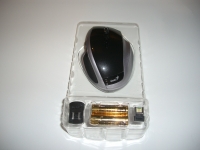 Genius calls their USB RF receiver "pico" sized, which is definitely fair considering how small it is. The below left image shows it by itself, while the below right image shows it next to a Logitech "nano" receiver.