Conclusion:
The
Kingston
HyperX Genesis 4GB 2133MHz DDR3 memory kit is an excellent choice for anyone looking to hook up their new Sandy Bridge system with some high speed memory. While the kit will work well in any dual channel DDR3 configuration, this special edition "X2 Grey Series" was released with Intel's new platform in mind.
The aesthetics may be slightly different from what we expect from Kingston, but the under the hood the performance is the same. Testing on a Sandy Bridge system showed that this kit has the ability to offer high speed performance with minimal effort thanks to the plug and play nature of XMP profiles. Compared to other 4GB kits rated at 1600MHz and 1800MHz, sizable performance benefits could be seen when going up to 2133MHz.


On the downside there isn't much to say. The kit performs well, looks cool, and comes backed by Kingston's limited lifetime warranty. The timings we anticipated were 9-9-9-27, but once this kit reached production they were slightly relaxed to 9-11-9-27. Not a big difference, and you would probably never notice under normal usage, but lower is always better.
Over at
Newegg.com
this kit sells for just under $100 (US), which is very competitive when compared to most other 4GB 2133MHz DDR3 kits. The only kit with comparable specifications that beats it is a $75 G.Skill brand kit. But, if you need a 4GB DDR3 kit and it doesn't have to be quite this fast the price drops off quickly.
In the end, the Kingston HyperX Genesis 4GB 2133MHz DDR3 memory kit pulls down two awards. It first earns the Bigbruin.com "Recommended" award for offering great performance and typical Kingston quality. It then also earns the Bigbruin.com "Gaming Approved" award for offering the specifications and aesthetics to get a high end gaming rig running while leaving some money left for games.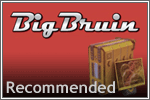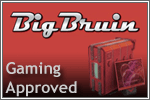 Pros:
» Solid performance in benchmarks and real world usage
» High speed and (relatively) tight timings with minimal effort thanks to XMP profiles
» Competitively priced with other 4GB 2133MHz DDR3 kits
» Lifetime warranty
Cons:
» Timings are 9-11-9-27 and not 9-9-9-27 as initially anticipated
Please drop by the Bigbruin.com Forum and feel free to post any
comments or questions
.