The Basics:
The images below provide a look at the two modules in the kit. They are unique, but do share similar styling queues with other HyperX modules. Other than the grey color scheme, other differences include a heatspreader that is held on without clips, and the small holes spread out along the top edge of the heatspreader.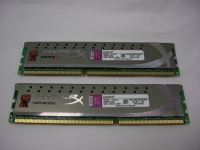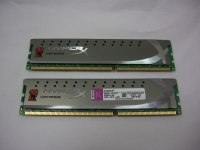 The promotional image below takes a closer look at one side of the heatspreaders to shown more details on the color, holes, and clip-less design.


The next image is provided to attempt to show a few things... That the heatspreaders make good contact with all the memory chips underneath, that the modules are double sided, and that the heatspreader material is just a thin sheet (unlike many of the thicker heatspreaders seen on some kits recently).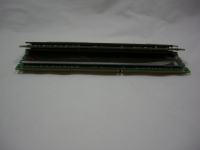 Configuration:
The system detailed below was used to test the Kingston HyperX Genesis 4GB 2133MHz DDR3 memory kit:
» Intel Core i5-2500K Sandy Bridge 3.3GHz processor
» Gigabyte P67A-UD3 LGA 1155 Intel P67 motherboard
» ASUS EAH6870 1GB Radeon HD6870 graphics card
» Kingston 128GB SSDNow V-Series solid state drive
» Nesteq EECS 700 Watt power supply
» Windows 7 Professional 64-Bit operating system
With the modules installed, the system was booted in to the BIOS, where I found "an issue" just like we saw on the HyperX T1 8GB kit. The timings I was expecting to see were 9-9-9-27, but I was now being presented with 9-11-9-27. With the HyperX T1 kit, Kingston explained to me that the production chips weren't quite capable of the same yields that they saw with early samples. So, the timings had to be relaxed a bit in the RAS# to CAS# field.
Booting in to Windows with the memory configured to 2133MHz, 1.65V, and 9-11-9-27 timings was effortless. Once in to Windows,
CPUID
's CPU-Z was launched to take a look at some specifics on this kit. The below left screenshot shows the SPD tab where we see four XMP profiles, but I would say the one on the far right is to be ignored since I could not find it or make the system functional properly when using the timings shown. The below right screenshot shows the Memory tab, which confirms that the kit is running at (about) 2133MHz with 9-11-9-27 timings.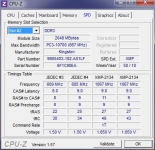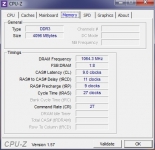 As with the HyperX T1 kit, this kit is using 1333MHz modules that have been hand picked based on their ability to achieve higher speeds. Basically they have been factory overclocked by 1000MHz (or roughly 75%) to be offered like this!