The Basics:
The camera is shown in the image below - looking up toward the camera that took its picture. You can see the lens is surrounded by a bit of text detailing that it is IR night vision capable, has an f number of 6 (mm), and that it has a resolution of 0.3MP. Outside of the text is a ring of 12 dots, which have three different functions. The dot located at 12 o'clock is a light sensor and the dot located at 6 o'clock is a status LED which you can turn off. This LED is bright white, and while it may provide useful feedback to the owner, all I can really see it doing is drawing unnecessary attention to your security camera. The remaining 10 dots are IR LEDs which will provide the night vision capabilities. When the ambient lighting is high enough, the sensor turns the LEDs off, but when the ambient conditions are dark enough, the IR LEDs come on. To the naked eye, you can tell they are working by an extremely faint red glow from each. The below right image shows the side of the camera. The "eye ball" of the camera is supported on either side, where a pivot and a small drive motor inside will provide the tilt motion.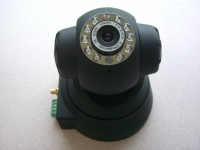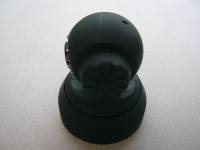 The next two images take a look at the camera from the side, with the lens looking upward. Another small motor inside will drive the camera from side to side, providing the panning motion between the top of the camera and the thicker base.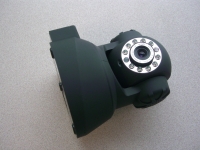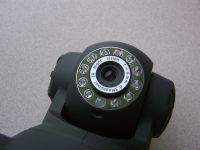 The next image shows the connection panel on the back of the camera. From left to right there is an 1/8" audio jack, a 10/100 Ethernet jack, the WiFi antenna connection, an alarm I/O terminal, and a 5V DC power connection.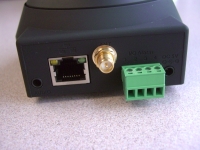 I decided to take a look inside the camera, because after just a few minutes of use I heard a cracking sound as the camera was panning from left to right. Operation didn't appear to be impacted, but I could hear something loose inside the camera if I shook it. The image below shows the bottom of the camera with the base removed.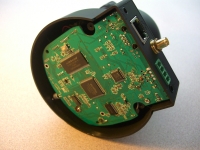 The noise was apparently the shielding from the WiFi controller popping off. I am not sure what happened, but I suppose a bundle of wires hit it and broke the weak adhesive loose. I simply removed the shielding, and in the images below you can see where it should be and where it is now. Additionally, you can see some of the wiring / circuitry of the camera, as well as the microphone and speaker provided to allow 2-way audio communications.