The Basics:
The
Seagate
FreeAgent Theater media player is a rather compact device not much bigger than a stack of DVDs. Other than a handful of buttons, the only thing interrupting the high gloss black finish is the slot for the FreeAgent Go drive, which is lined in a matte black foam.


The buttons on the top of the device provide control for the basic functions. You can power up the device, navigate on-screen menus, and control the playback of the available media files.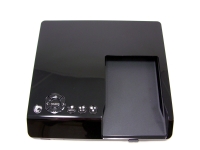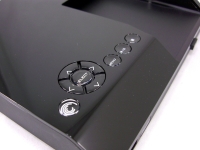 On the front edge of the player there are a few more features, including a USB port that lets you use other types of storage devices, a sensor for the wireless remote control, and an eject button to help pop the FreeAgent Go drive out of the slot. The USB port can be used to connect to hard drives, flash drives, card readers, or directly to digital cameras, so there are plenty of options to extend the use of the FreeAgent Theater beyond using a FreeAgent Go drive.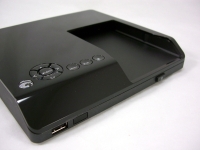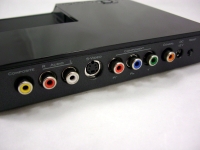 Around back we find the bulk of the connections. From left to right in the above right image we have a composite video jack, RCA jacks for stereo audio, an s-video jack, component video jacks, coaxial audio, a power connection, and a reset button.
The next set of images detail about all there is to know about installing a drive in to the FreeAgent Theater. You simply slide a FreeAgent Go drive into the slot until it pops in to place. To remove the drive, push the eject button to get it started, and then slide it out the rest of the way by hand. The images below show the 250GB drive (silver), as well as the 320GB drive (blue).