Conclusion:
The
Fibaro
KeyFob has been in use for a few weeks now, and I am very pleased with it. The setup was very easy, and it has become one of my more common means of interacting with portions of my smart home. It works very well for toggling outdoor lights and opening/closing my garage doors, even when just pulling up to the house. The device reconnects to my Z-Wave network quickly, and from a distance that is quite impressive... Definitely farther out than my standard garage door openers.


The Fibaro KeyFob sells for
$49.95 at The Smartest House
, which makes it competitively priced with
the other multi-function remotes
they offer. Considering that so many others are priced similarly, I may be out of touch, but to me that seems like a good deal of money for a remote controller. I have so far only used the Fibaro KeyFob and the NodOn Soft Remote (also $49.95), and while both work very well, I think I will have to get my hands on an Aeon Labs MiniMote for comparison. I occasionally see two packs of these go on sale at other stores for $25-$30, so it would be interesting to see how a $12.50 Z-Wave remote compares. My appreciation for just how nice the Fibaro KeyFob is might totally change after that!
The solid construction, attractive design, ease of use, and extensive number of devices it can control help to earn the Fibaro KeyFob the Bigbruin.com "Great Idea" and "Recommended" awards.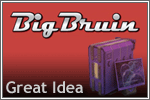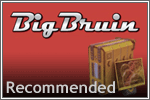 Pros:
» Well made and very attractively designed
» Easy to connect and configure, especially with the Fibaro HCL
» Works very well with SmartThings, but you will need an additional device handler and SmartApp
» Control 30+ scenes / devices with one simple remote controller
» Impressive range, quick reconnection to the Z-Wave network, and included key ring make it great for in the car
Cons:
» Battery compartment is difficult to open / close
» $49.95 seems like quite an investment for a remote controller
Please drop by the Bigbruin.com Forum and feel free to post any
comments or questions
.