In the fall of 2015 I got to take a
Tesoro Excalibur Spectrum
keyboard for a test ride, and I liked it so much that it has displaced my old friend, a Logitech G15, as my every day keyboard. Not only it is a very well built and comfortable keyboard to use, the lighting effects are quite useful and entertaining. In this review, I'm going to take a look at another illuminated, mechanical gaming keyboard from Tesoro - the Excalibur V2.


The Excalibur V2 is shown in the promotional image above, where we get the idea that it has a traditional keyboard shape and layout, and that it can at least illuminate all of the keys in blue. This unit is a much more budget friendly offering than the Excalibur Spectrum, and as such one of cost cutting methods was to have this one only illuminate in blue. You can still do plenty of cool things with the lighting effects, but instead of having the full spectrum of colors to use, you just have blue.
Before we take a look at the sample provided for review, let's cover some of the features and specifications found on the official
product page
on the Tesoro website...
Features and Specifications:
"Excalibur is a classic take on gaming, giving gamer all required tools to dominate the field of battle without additional features that most gamers would not use, making it one of the best performance to value board out there."
» Gaming Grade Mechanical Switch
» Heavy-Duty
» 32bit ARM Cortex Premium Processor
» 1000Hz Ultra-polling rate
» 512KB (4Mb) Onboard memory
» All keys programmable
» NKey / 6 Key Rollover
» Versatile Lighting effects
» Make your own LED effects with instant lighting recording
» Double injection keycaps
» Quick profile switch, instant macro recording, reset hotkey, keyboard lock
» Compatible with Win XP, Vista, 7, 8, 10
Packaging and Accessories:
The box for the
Tesoro
Excalibur V2 keyboard makes it very clear as to what is inside. You get plenty of images and text descriptions of what this keyboard is capable of. The box is also the first place I noticed any indication of what kind of switches are found under each key. While the description says "gaming grade mechanical switch", from the box I now know that they are Kailh branded. Kailh is the main alternative to the very popular Cherry switches, and in many ways they are quite similar. Perhaps to tie in to the blue lighting theme, the specific Kailh switches used in this keyboard are also blue. While harder to find, the keyboard is also available with red switches (but still blue lighting).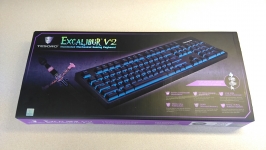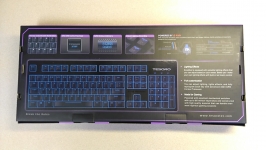 Inside the box we find the keyboard neatly stowed away inside a thin foam bag, with the USB cable tucked under a cardboard flap on one side. The only other items in the box are Quick Start Guide and Tesoro literature seen in the below right image. Software is required, but Tesoro's standard practice is to direct you to their website for the latest release.