Conclusion:
I have never reviewed a chair before, but I have sat in plenty of them, so I would say I am fairly qualified to share my opinion. The
EwinRacing
Flash Series chair is definitely very comfortable, and overall has a very high build quality. There is plenty of adjustability to it, and the inclusion of both a lumbar and a neck pillow are welcome touches. I also appreciate that it can accommodate such a range of user heights / weights, as I am quite often left with chairs maxed out and still wishing for a little more room! Not with this chair, as it can go so high that my feet are left dangling.
While the quality is high in general, I feel that some components (like the armrests) don't achieve the same high standard. They are comfortable enough and very functional, but not quite as polished as the seating surfaces and the five star base. My personal opinion is that the Ewin branding on the chair is a bit overdone, as you see their logo embroidered very prominently in three locations on the front of the chair!


The Flash Series ergonomic office chair with pillows can be purchased directly from
EwinRacing.com
or
EwinRacing.eu
, and in US Dollars the price is a rather lofty $379 (US)! That is quite a price tag for an office chair, but you do not have to pay that much since they currently have a promotion where the code XMAS will take off 25%, bringing the total down to $284 (US). I assume the code XMAS will expire sometime soon after the holidays, but when that happens you should still be able to use code BIGBRUIN, which will take 15% off. Considering that the shipping box weighed in at almost seventy pounds, it is very appealing that they also offer free shipping! $284 is still more than I have paid for any of my previous office chairs, but the Flash Series chair definitely has more to offer and is much more comfortable.
In the end, the EwinRacing Flash Series ergonomic office chair with pillows earns the Bigbruin.com "Recommended" award.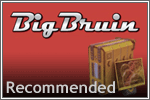 Pros:
» Overall very high build quality
» Very comfortable
» Highly adjustable to make sure you can make it suit you
» At 6'2" and 225lbs, I am nowhere near maxing out the height and weight capabilities of this chair
Cons:
» Some components don't quite match the overall high quality
» Ewin branding is overdone
Please drop by the Bigbruin.com Forum and feel free to post any
comments or questions
.