Packaging and Accessories:
Opening the box we find that all of the components are well padded, and in case you had not figured out yet - some assembly is required!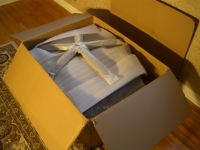 The image above shows that the five star base is placed on top, with plenty of bubble wrap and foam sheeting separating it from the body of the chair underneath. The below left image shows the chair back (with armrests pre-installed) is the next item to be found as we dig our way down, and the below right image shows that below that is the chair base and a cardboard box full of smaller items.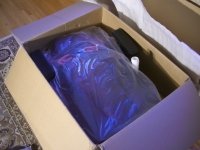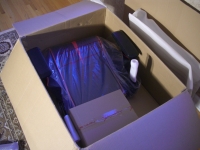 Next we see all of the items out of the larger box, almost ready for assembly. First we have to see what is inside that smaller cardboard box.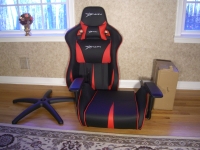 The box of accessories includes pictorial assembly instructions, hinge covers for where the back meets the base, all the necessary bolts (plus Allen wrenches to tighten them), five casters, the gas cylinder, the bracket where the gas cylinder meets the base - and so you feel like you're working on a Bentley - you get a pair of knit gloves!