Conclusion:
The
EwinRacing
Flash XL is a really solidly built chair that looks and feels high end minus a few points. The quilted PU cover really seemed to breathe better than I expected during the long stretches I spent watching movies/playing games. The armrests provided great adjustment and support, especially when gaming. Though I do think a little more padding and a PU cover on the armrests would go a long way.


Overall I found this chair to be not only comfortable but supportive. This really surprised me due to its size. Since this chair is so big I just assumed it would have all the support features in the wrong spots. So I think their assessment of the chair fitting from 5'7" to 7" might be pretty close if what you lack in height is made up for in girth. But with that said I would strongly suggest you look at the
E-Win shopping guide
. It has ranges of heights and max weight for each chair. While fit is subjective, I think your best bet would be to shoot for a chair where your size is in the middle of the range supported. Based on this the ideal chair for me would be the Champion series. So not only would the chair likely fit my frame better, but I could also save around $150 too.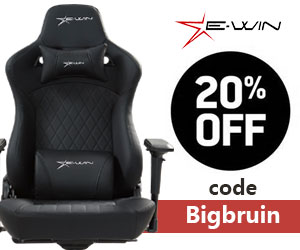 The EwinRacing Flash XL chair has a retail price of $509, but the normal price is $469. There is a special code,
Bigbruin
, which takes another 20% off for a final price of about $375 with free shipping. The Bigbruin promotion is not as good as their Black Friday promo on their website where the code
BF
takes 30% off everything (or a final price of about $328). This is still a very expensive chair. But based on the quality of construction and materials used (minus armrests) there is more value here than you might expect. Just taking a quick look at an office supply site, they do have a "big and tall" chair to support up to 500 pounds for $336 but it lacks recline and adjustable armrests among other things. So if you do indeed need a chair on the larger side, this EwinRacing chair appears to be a great option for you. It is well made, has tons of features, looks awesome and has a great warranty so it really should stand the test of time.
All things considered, the EwinRacing Flash XL Gaming Chair earns the Bigbruin.com awards of "Good Value" and "Gaming Approved".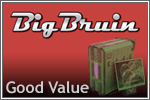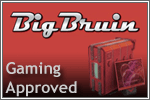 Pros:
» Overall the build quality is great
» Comfortable for extended periods
» Very adjustable
» PU cover dissipated heat better than expected
» PU cover should prove to be very durable
» Warranty is very comprehensive
Cons:
» Armrest seem cheap compared to rest of build
» Armrest rotation needs better lock
» E-Win branding over done
» Lumbar pillow not fixed
Please drop by the Bigbruin.com Forum and feel free to post any
comments or questions
.