Conclusion:
Overall I was very impressed with
ecobee
's ecobee3 Wi-Fi smart thermostat from the start. The packaging was well thought out, they included everything you would need to install it, and the install/set up was a breeze. At this point it is too early to tell how much it is saving me and what the ROI would be, but I do have to say I really like this thermostat.
One slight disappointment I found was with the operation of the remote sensors. Don't get me wrong, it does work well but I found myself wanting more. The one that came with the unit I have downstairs but trying to get it in a position it would sense my son going to his playroom or my wife to the laundry room means it can't sense you in the family room. So if we watch a movie, it will see us coming, but after a half hour or so it will think we are gone and it would change the mode to away. So I really think I need to get at least two more of the sensors, which are available for about $80 for a pack of two. Not terrible but if you have a large home with lots of rooms you may want to focus your comfort in you need to take these extra sensors into account.


At least the system is modular, so you can get the thermostat up and running then add sensors as you find they are needed. Even though I think we need a few sensors, we have found this unit kept our home very comfortable and it is easy to use. Overall I think if your home is configured like mine, single zone with thermostat nowhere near where you actually live; this thermostat can make you more comfortable and should save you money.
I mentioned that a two pack of additional sensors costs about $80, but what about the unit itself and the included sensor? Shopping around finds that you can buy the ecobee3 directly from ecobee, from a variety of online retailers like Amazon and Newegg, as well as many big brick and mortar stores like Best Buy and Home Depot. The price from any given location is just under $250. This makes it about the same price as the 3rd generation Nest thermostat, so the price is definitely competitive.
In the end, the ecobee3 Wi-Fi smart thermostat with remote sensor earns the Bigbruin.com "Highly Recommended" and "Good Value" awards.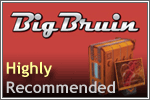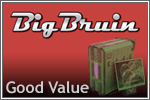 Pros:
» Comes with everything you need for a successful installation.
» Comes preconfigured with a simple schedule to get you started
» Has all the features of the competition plus a few more to help you save money
» Touch screen, app and web portal are all well laid out and work well
» Remote sensor works as intended, sensing motion and helping make your occupied spaces comfortable
» Detailed usage reports
» System alerts via email and/or push notifications
» 3 year warranty
Cons:
» For homes without the C wire, the PEK is required (unlike the competition)
» Many homes may need more than just the one remote sensor to get the most out of it
Please drop by the Bigbruin.com Forum and feel free to post any
comments or questions
.