Packaging and Accessories:
Overall, the packaging of the ecobee3 is well thought out and quite attractive. The box came wrapped in plastic which was removed for the pictures below. The shape of the box is square, much like the thermostat inside. The front of the box has a picture of the thermostat and remote sensor and the Apple HomeKit logo. The back of the box provides a content list, and reviews some of the general features of the unit.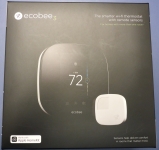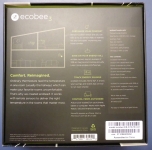 Lifting the cover you are greeted by your new smart thermostat and remote sensor. Normally I am not a fan of packing a delicate screen facing out, but there is a protective plastic cover and the top of the box is fairly thick. Since the rest of the packaging was so well laid out I will assume there is adequate protection for the device.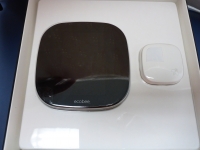 Lifting the plastic cover and tray that holds the thermostat and sensor reveals the next layer of packaging. Here you will find the power extender kit (PEK), remote sensor stand, and mounting screws all tucked neatly in place.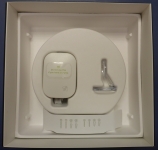 Lifting this tray will reveal the larger trim plate. This plate is used to help cover old mounting screws or sections of unpainted wall. Under this you can see the Quick Start Guide, Installation Guide, sticker sheet, and wire labels.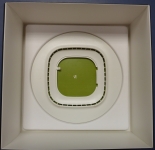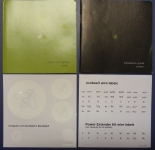 Again the packaging was incredibly well done and definitely gives you the impression they really thought things out. Hopefully this thoughtfulness extends to the thermostats installation and operation.