Packaging and Accessories:
There really isn't much to say here, the Data Traveler 2000 is sealed in a typical clamshell package as you can see below.


The front has the product name and capacity information while the back provides a URL for additional information and steps to lock/unlock the device. The drive comes with an aluminum cover which is necessary to maintain the IP rating, but also is necessary to make sure you don't accidentally wipe your drive. But more on that later.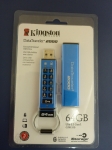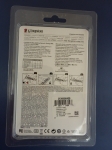 The Basics:
While there is some plastic use in the construction of this USB drive, the majority of the case is anodized aluminum and it feels well made; which we expect from Kingston. At the bottom of the drive there is a small threaded SS cable loop for connecting it to a key ring or something similar. Just above that is a plastic part that has the capacity indicated, but it also has an integral o-ring groove. This is what creates the seal to the cover and maintains that IP 57 rating for dust and water protection.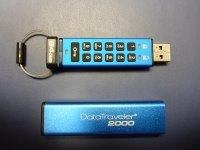 On one face of the aluminum body of the device you have the number pad, lock key, and three LEDs. Each of these LEDs has a few states of operation, which I will mention later. Overall this USB drive is fairly large compared to a typical USB drive, but this is to be expected with the integral keypad.