In Use (continued):
One thing you will have to do is decide how you want to use your drives. But Synology makes this easy for you too. In my case I chose to set up Synology's hybrid RAID (SHR) since I only had two of the five bays populated and from past experience I have found SHR does a very good job of managing addition and replacement of drives even when they are of varying capacity. It really takes any guess work out of the set up. In this case I am sure the drives are just set up to mirror. But they do have other options as noted in the specifications at the beginning of the review, but some are only available with a minimum number of drives.
Through the years I have found DSM not only does a great job of managing your system but also makes it easy to install additional packages and applications you need. Some of these are direct from Synology, others are third party. I am not going to go into much detail on these applications and packages as we have covered them quite a bit in previous reviews (
DS1515
,
DS414Slim
,
DS415play
and
DS414j
). Synology does a good job of making the software seem familiar, so even when they make updates to a package, the older info will still likely be valid.
I am not sure why I never used this before, but I took a look at Cloud Sync and realized it was a great way to back up any cloud accounts you have like Google, Azure, Dropbox, Amazon and many others. With a few simple clicks I was able to connect my Google account to the Synology DS1019+ and immediately it was backing up my files on my Google drive. You have the ability to set it to be a one way or two way sync as well as scheduling times for it to back up. If you have a family with multiple such accounts you can set them all up to be backed up and kept secure.
One thing we touched upon in the DS1515 review was the use of Central Management Systems (CMS). This is another package I never used before, probably because I only had one Synology NAS, but I can see how this would be a great feature for those that have these devices remotely located they have to manage. As mentioned in the previous review you can quickly link the servers, in my case I used the QuickConnect ID and immediately noticed that my older unit had a pending DSM update.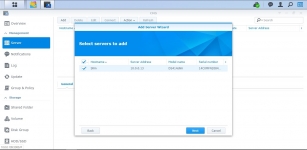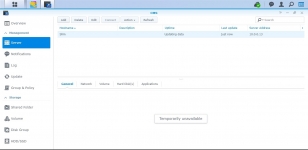 Using CMS I was able to control the installation of the update from the DS1019+. This makes me want to dig through all of the packages Synology has and see what else I might be missing.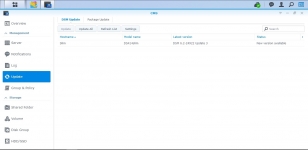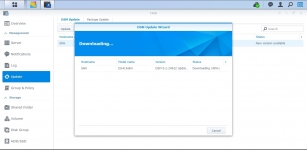 Another package I loaded up was Plex to manage my movie library and provide a nice interface for my streaming devices. In the past if I tried to have multiple streams from my older DS414Slim it would choke. Sometimes it was a bandwidth restriction, other times if there was any transcoding needed it couldn't even handle one stream. It would play a few seconds, pause, then repeat until I lost my patience. Honestly that happened really quick. But I had none of these issues with the DS1019+. I was able to stream movies to three different devices and never noticed any playback issues. In fact it didn't even look like the CPU was breaking a sweat.