Conclusion:
As is typical with
D-Link
; the COVR-3902 AC3900 Wi-Fi system is solidly built and performs very well. Installation was simple, and the web interface provides enough ways to tweak and customize your router for all but the most sophisticated networks and users. While the app did a fine job at guiding installation, I really wish it had remote capability. Even if it was just to allow a reboot. While I never had to reboot this router during testing, I have in the past received complaints from the wife that the Wi-Fi wasn't working. Trying to explain to her which of the devices she needed to unplug was often frustrating. It would have been great if I could just do this remotely, or have the chance to.


D-Link claims 6000sqft of coverage. I have never really understood how they come up with these figures, but had assumed it was based on max connection distance in an open field. If that were true you would only expect to have a signal up to 44 feet from the router. But I clearly had a connection at approximately 100 feet away through one exterior wall. So at the end of the day all I can say is that the coverage from this D-Link COVR 3902 unit was very good.
Currently the D-Link COVR 3902 is on sale at
Amazon.com
for
just under $300
, but was very recently as low as $240. $240 is in line with the TP-Link Deco M5 we recently reviewed. The TP-Link has built in security features the D-Link does not have, but the D-Link covers a larger area. There are more expensive options out there, like the Linksys Velop or the Netgear Orbi, but you will be spending $400 for either of those. Both of these will offer better bandwidth due to their tri-band design, but the coverage area will be very similar and you'd have to spend another $100+. D-Link advertises that you can purchase additional extenders but I have been unable to find them. But assuming they are available for around $100, you could add another extender and still be less expensive than either of those options.
Overall I think the D-Link COVR 3902 strikes a great balance of coverage, speed, and cost. While there are a few things I would like to see improved, I was left very impressed with the performance. It also doesn't hurt that it comes with a 3 year warranty. If it fails outside of that period you'd likely be looking to upgrade soon anyway. Speaking of upgrades, I do hope those plugged holes in the router mean a more powerful version is in the works. With the way this unit performs I can only imagine what an upgraded model could do.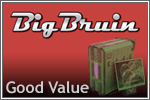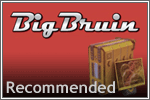 Pros:
» Great coverage and performance
» 3 year warranty
» Easy setup via app
» Understated design
» Web interface provides ability to fine tune the device
» Handled several concurrent streams with no issues
Cons:
» No dedicated band between extender and router
Please drop by the Bigbruin.com Forum and feel free to post any
comments or questions
.