Accessories:
It took a second to hunt down the main accessory box. The black cardboard box is mounted in the lowest hard drive caddy. The box contains the standoff and motherboard screws, optional drive screws, a cable wrap, and two plastic gaskets for those using the external water cooling features.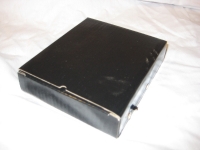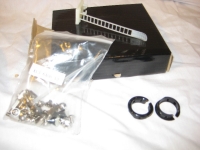 Also included with the case are two accessories to help keep the quiet computer theme going. On the left is an empty package of Fansis anti-vibration screw (the review sample already had the screws installed on the fans), and the right package is a Fansis anti-vibration PSU gasket. The gasket is a silica gel designed to keep fan vibrations from shaking the case when installed between the PSU and the case. The package includes screws and silica washers.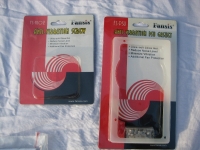 There is also a set-up manual for the Cupio 6140. The manual describes the function and pinout of the I/O panel and the other accessories. The manual is mostly picturegraphs, so there is no need for the multi-language format common a few years ago.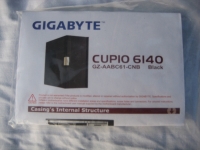 That concludes the Tour of the Gigabyte Cupio 6140. Use caution as we proceed to the Construction Zone, and we'll discover how easy or difficult it is to build a computer inside the Cupio.
Installation:
Two different configurations were chosen to test out the Gigabyte Cupio 6140. To check to see if the 'Full-ATX' stamped on the motherboard mount is true, an old ASUS P2B-S Extended-ATX Motherboard (with resident Intel Pentium III 550MHz processor) was revived to see if it would fit - this is due to the curiosity of the markings inside, and a few vendors' descriptions of the Cupio.
The 'Full Build' configuration includes an Intel DG965WH standard ATX motherboard, to which an Intel Core2Duo E6300 1.83GHz processor is mounted. 4GB of OCZ DDR2-6400 memory, an EVGA GeForce 9800GTX+ 512MB video card, a Maxtor 500GB SATA hard drive, Lite-On 16x IDE DVD-RW, MasterPower 600w ATX power supply, and a Creative SoundBlaster Live PRO sound card round out the equipment for the full build. Everything is running at stock factory settings, no overclocking. The Creative Live was chosen for one reason - it has a daughter-card which does not go into a slot, rather it is held in place by one screw on the expansion mount. This will see if the clips hold well. The 9800GTX should also test the clips' mettle due to its dual-slot heat sink.
The only tools required are a #2 Philips screwdriver to mount the motherboard and the power supply, and I also used a #1 Nut driver for mounting the motherboard standoffs instead of the more oft-used needle-nose pliers. Tools are only needed for placing the motherboard and power supply. I also kept a small LED flashlight at the ready in case of the need to see in the depths of the Cupio 6140.