Packaging:
The Gigabyte Cupio 6140 arrived well-packaged in the box shown below, and although the box appeared distressed from shipping, the contents were unharmed. This is due to the foam padding used, plus the foam sheet wrapped around the unit. For a case described as a mid tower, the box is quite heavy. Excitement builds as the box is opened and the contents are extracted.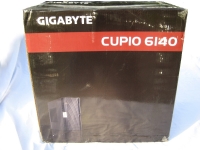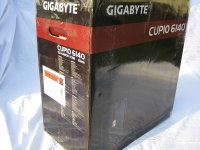 External Examination:
The Cupio 6140 is a beautiful case to look at. Brushed, blackened metal abounds. The reviewed sample does not include a side panel window, though the specifications posted on the website suggest there are options for such if you're inclined. I like to describe sedate looking cases such as these as 'elegant.'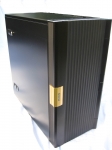 A full-height front door covers all bays, and the door appears to be aluminum, ribbed to aid in cooling. A magnetic clasp secures the door to the case, and does the job well as the case is handled. A slight spring-loaded hinge at first seems to make the door 'stiff' to open or close, but helps hold it in place. The door does open a full 270'. If your usual placement of a tower built with the Cupio 6140 is on carpet, you might want to think twice. The door does cover the entire front of the case, and deeper pile carpet will interfere with the door opening and closing. Also, the door is solid, with no ventilation, and it has been lined with acoustic dampening foam to help keep noise levels down. While this helps keep dust from getting in, it may inhibit cool air from getting in. We'll check back on this later.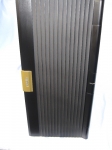 Opening the door reveals the external drive bays, which are covered by steel mesh. The upper bay cover allows for a 3 ½" media card reader, hot swap hard drive bay, or a floppy drive to blend into the machine nicely. The front of the unit is completely devoid of any controls or ports.