Conclusion:
The Gigabyte Cupio 6140 is one fine case, and
Quiet PC USA
has done well to increase the appeal with the quiet modifications. The fit and finish are top-notch, all of the features worked perfectly, and the tool-less chassis really surprised me with the external bays. It is definitely quiet, and doesn't have loads of LEDs glaring at you, so it probably won't draw too much attention to itself.
Installation might be tight for some configurations (though the Extended-ATX motherboard squeezed in fine); certainly some of the newest Multi-GPU cards might have issues clearing the hard drive bays (if the PCI-E power connectors are on the rump of the card). Even so, the Cupio 6140 was impressive to build with. It would suit a bedroom machine, or even work fine in the TV room as a media center. It is truly a class act.


Quiet PC USA sells this custom quiet version of the Gigabyte Cupio for
$199.95
, which is about a $72 premium over the base version which is available for
$127.95
as of the day this review was completed.
A search of Google Shopping [
link
] for the Gigabyte Cupio 6140 shows a price range varying from about $120 to $150. You'll actually pay more for the base version of the same case if you buy at places like Newegg.com or TigerDirect.com! Nice! If you appreciate ultra quiet computing, there is nowhere else to get a case just like the version covered in this review. $199.95 may be a higher than normal price for a midtower case, but this custom version of the Gigabyte Cupio 6140 has much more to offer than a normal case.
The Quiet PC USA's ultra quiet version of the Gigabyte Cupio 6140 case has the style and features to help it earn the Bigbruin.com "Highly Recommended" award, while the extreme low noise operation help it to also earn the "Whisper Quiet" award.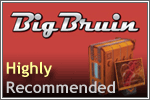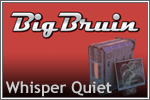 Pros:
» Solid workmanship
» Quiet (and I do mean quiet!)
» Well constructed
» Tool-less chassis functions as advertised
» Top-Mounted 'Front' I/O ports for accessibility
» Ample cooling
» Drive bays are a dream to use
Cons:
» Full-height door could snag carpet if unit is on floor
» No removable motherboard tray
» Tool-less Clips might not hold some expansion cards
Please drop by the Bigbruin.com Forum and feel free to post any
comments or questions
.