Testing (continued):
For the rest of the benchmark results to consider, the 256GB MX100 will be compared to a handful of other SSDs and a "fast" HDD. The competition includes a 128GB Crucial M500 SSD, a Western Digital Black 2.5" 500GB HDD, a Kingston mS200 240GB mSATA SSD, a MyDigitalSSD BP4 120GB mSATA SSD, a Kingston HyperX 3K 240GB SSD, and OCZ RevoDrive x2 100GB PCIe SSD, and an OCZ RevoDrive 50GB PCIe SSD.
ATTO Disk Benchmark v2.41:
ATTO's Disk Benchmark version 2.41 was used to compare the speeds of all of these drives. The test was run in a fairly standard configuration; with a transfer size from 0.5 to 8192KB, a total length of 256MB, and the queue depth at 10. Read and write results are provided in terms of MB/s, and higher is better. We will take a look at results from the low end and the high end, since the data provide by the program covers to many points to present succinctly.
The first graph takes a look at 64KB reads, where you should not expect to see the full speed of the drive shine through. The Crucial MX100 finishes near the bottom of the pack, but it still puts up an impressive speed of just over 456MB/s.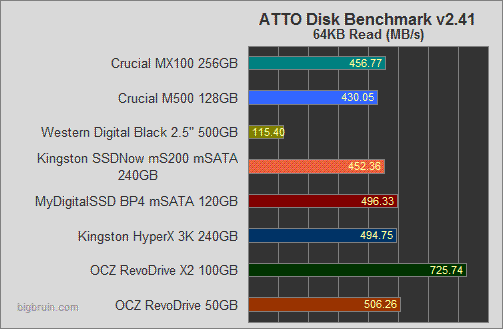 When we look at the write portion of the 64KB test we see that the MX100's lower write speed rating hurts its performance when compared to other SSDs. It only manages to beat the traditional hard drive, and its little brother SSD - the M500.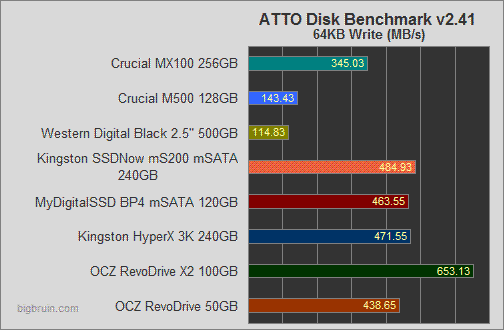 The next set of results from ATTO are from 8192KB (8MB), and we have the read results in the chart below. The drive is rated for up to 550MB/s, and it gets very close at just over 540MB/s. This is definitely a fast drive, and it only gets beaten by two others in the group.
On the write side of things at 8MB, we again see that the MX100 256GB SSD can't compete with the bulk of the other SSDs.