Cougar
is a German manufacturer of computer peripherals that has been around since 2007. We first became familiar with them in 2013 when we checked out their rather impressive, budget friendly
Spike computer case
. We then had a look at their rather futuristic looking
700M gaming mouse
in the fall of 2014.


In this review we have another gaming mouse, this time with an appearance that may seem somewhat more familiar. The 600M gaming mouse is shown in the promotional image above in all of its vibrant orange glory. As we will see in this review, the 600M offers many of the impressive features of the 700M, but with a more traditional styling. And while the orange color scheme is definitely eye catching, those who prefer a more subdued color scheme will be happy to know it is also available in black. Before taking a look a the sample provided for review, let's cover some of the features and specifications, as taken from the
official product page
on the Cougar site...
Features and Specifications:
» Product name: COUGAR 600M gaming mouse
» Sensor: ADNS-9800 Laser gaming sensor
» Resolution: 8200 DPI
» Processor: 32-bit ARM Cortex-M0
» Game type: FPS / MMORPG / MOBA / RTS
» Polling rate: 1000Hz / 1ms
» On-board memory: 512KB
» Software: COUGAR UIX™ SYSTEM
» Programmable buttons: 8
» Switching: OMRON gaming switch
» Profile LED backlight: 16.8 million colors
» Frame rate: 12000 FPS
» Maximum tracking speed: 150 IPS
» Maximum acceleration: 30G
» Interface: Golden-plated USB plug
» Cable length: 1.8m Braided
» Dimension:
» 125(L) x 80(W) x 42(H) mm
» 4.92(L) x 3.15(W) x1.65(H) inch
» Weight: 90g
Many of these details are the same fopr the 600M and the 700M, including the sensor, resolution, processor , polling rate, memory, frame rate, max tracking speed, max acceleration, LED color choices, and cable length. Many of the differences are aesthetic, and in many ways the 700M is like the concept car version of the 600M's production model design. The 600M also lacks the adjust palm rest, user adjustable weight system, and the price tage is about $15 less (roughly $55 versus $70).
Packaging and Accessories:
The 600M is sold in a very thoroughly detailed retail box shown in the images below.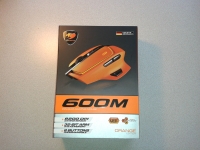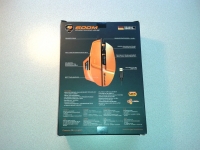 The front of the box hinges open to show the actual mouse through a clear plastic window.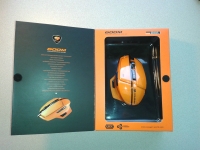 The mouse itself is secured to a black plastic tray within the box, and underneath this is where we find the handful of accessories. As shown in the below right image, you get disk with the utility installer, a user's manual, and a sheet of stickers.