Conclusion
All in all, the Cooler Master V8 holds it's own with the best air cooler we've seen so far - the Prolimatech Megahalems. With only a degree or two separating these two performance wise, I dare say it's a wash. Both are very good at cooling even at extreme loads and with minimal noise.
I like the fact that even though the overall design is great and may not warrant it, the fan is still replaceable. The fan speed control is a nice touch, and it's implementation is very good. Given that Cooler Master has used minimal parts for multi-platform configurations is an added plus, allowing the user to upgrade or even change platforms all together without finding another cooling solution. Perhaps this implementation will allow for upgrades in the future even with imminent socket changes. A handful of other vendors have done this with older generation coolers to make them compatible with the current LGA 1366 and LGA 1156 sockets.


If I had to change one thing, it would be the way the Cooler Master V8 attaches to the motherboard. Most manufacturers use what I'll refer to as a "pin-up" design, where the mounting bolts protrude from underneath the board and the mounting nuts or screws are attached from the top. In this case, we're dealing with the exact opposite and it's a bit awkward. Having to hold the massive cooler in one hand, while attaching the nuts with the other, is tricky. While the whole idea of a "universal mounting plate" is ideal (and probably saves a good deal of cash in manufacturing costs), it makes the overall installation more difficult than it really needs to be.
A quick search of the
Bigbruin.com shopping page
reveals that the Cooler Master V8 can be had for around $60 to $75 (US) at a handful of online retailers.
Newegg.com
currently offers the V8 for $74.99 with free shipping (and before a $15 mail-in-rebate), while
Tiger Direct
has it for $59.99 without a rebate
Overall, the
Cooler Master
V8 is a great cooler. It's superior cooling and quiet operation earn it the Bigbruin.com "Highly Recommended" and "Whisper Quiet" awards.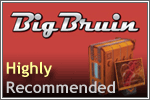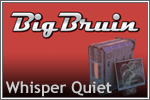 Pros:
» Very quiet, even on high
» Fan can be changed very easily
» Multiple platform means you can upgrade without buying a new cooler
» Includes a simple fan speed controller
Cons:
» Priced on par with "elite" air coolers and water cooling solutions
» Installation is more difficult than really needs to be
Please drop by the Bigbruin.com Forum and feel free to post any
comments or questions
.