The Basics:
The Cooler Master V8 arrived in a massive black retail box. The one thing I love about Cooler Master is their great packaging - everything you could ever want to know about one of their products can be found with a quick spin around their packaging - and the V8 is certainly no exception. In the first picture below we see the front of the box with the large, colorful depiction of the cooler itself, you get the distinct impression the cooler is going to be big. The second image shows the back of the box and reveals all of the features and specifications of the cooler, plus a few more stock images.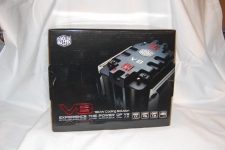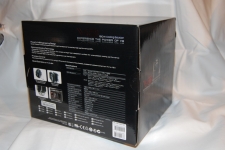 Time to get the box open and its contents sorted. First up, we find the standard multi-language user's manual and a warranty info flier. In the next shot on the left, we see the plethora of mounting hardware; from top to bottom we have a small bag of mounting screws and rubber washers, universal mounting plate, AM2/AM2+/AM3 mounting bracket, LGA 1366/1156/775 mounting brackets, nut driver attachment for connecting the mount plate to the various brackets, a PCI slot cover for attaching the speed control, a tube of thermal paste (always a nice touch), and an Allen wrench. The wrench will come in handy if you need to change out the fan. There are four bolts on the top and 2 on the bottom of the cooler that need to be removed.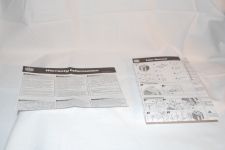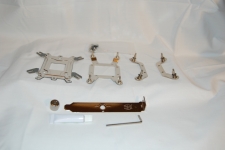 Now we finally get to the cooler itself. The image below shows you the top of the unit. You can see the 4 bolts that hold the fan in place, as well as the four central heatpipes poking out of the top. The unit is designed so that four of the eight heatpipes cover the core of the cooler, while the other four cover the outer two sets of fins.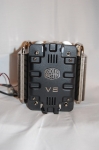 Next, we look at the sides of the unit. The image on the left is a full-frontal view showing you the intricacies of how the heatpipes are intertwined for maximum exposure. The image on the right gives us a side view, and shows how the low profile fan fits into the V8.