Installation:
Other than the piece of paper making it easier to install the motherboard standoffs, installation went as expected. There is a large amount of space inside this case which makes installing components and routing cables a breeze.
Installing a 5.25" device was simple with the tool-less push button clips. When I removed the drive bay cover I did get a little surprise. First, you can remove the cover by prying them off the front of the chassis. This is not the best or easiest way, as there are two clips on the inside portion of the cover which when pushed together allow the cover to be released very easily. The surprise came after I removed one of the covers. Inside the cover was a small filter! This is great as anything the manufacturer does to help reduce the intake of dust is welcome.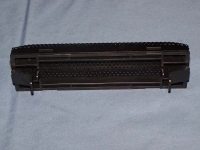 Installing hard drives into the 3.5" drive bays requires the use of trays which make installing hard drives easy. With that being said, I did have to take a look at these trays in order to do the installation. My first thought was to remove the rubber grommets and reinstall them once the drive is in place. However, that was a mistake. Leave the grommets in place. Do not remove them as they can be a little difficult to put back into place. To install your hard drive, place one side of the drive onto the pins sticking out of the rubber grommets, then slightly bend the other side of the tray outward until your drive goes into place. Release the side and the pins from the grommets should go right into the screw holes on your drive. It seems easy now that I know how to do it.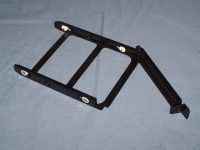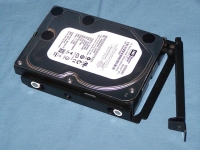 Installing your video card is very easy in this case. The length of some of the recent video cards has begun to push the limits on many cases. My previous favorite case, the NZXT Lexa Blackline, worked great for my previous video card, an eVGA 8800GTS. Recently I upgraded to an eVGA 260GTX vide card and it is a little longer than the 8800GTS. I was able to get it installed in the NZXT Lexa Blackline, but it was tricky. I had to twist and rotate the card until I was able to get it to line up with the PCI Express slot. There was very little room between the end of the eVGA 260GTX and the 3.5" drive bays. Installing the same hardware into the Cooler Master HAF 922 was easier. The HAF 922 is designed with these longer video cards in mind. The 260GTX had just under one half inch of clearance in the Lexa (below left image), while it has close to 3" of clearance in the HAF 922 (below right image).