Boomchair:
Boomchair
has perfected the gaming chair which is designed to sit on the floor. However, they also have several regular looking chairs. These chairs offer a high back and a headrest. The first one is called the Stealth; this model rests on a solid base without any rollers and integrates two 3" 2-way speakers on the side of the seat, and a 4" subwoofer. Audio capabilities include volume, bass, and treble, and RCA input/output. My first impression of this chair is that it belongs on the deck of the Star Trek Enterprise.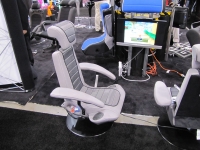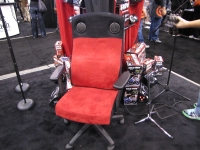 The chair pictured on the right is the E-Tec, which integrates two 3" 2-way speakers in the headrest. It provides the usual tilt/swivel and wheeled base. Audio capabilities include Volume, Bass and Treble adjustments, and RCA audio input. This chair is available at Best Buy, and has a $200 suggested retail price.
Chairs are not the only thing the Boomchair manufactures. Recently they introduced their Rock Show devices which will connect to either gaming systems or real instruments. Currently there are two models, Club and Venue. The Club model is the smallest model and integrates 3" speakers and sound responsive LED lights. Venue is a little more advanced with 4" speakers, and two sets of sound responsive LED lights. In addition, Venue includes separate microphone volume and echo effects. One microphone is included with the Venue, however two microphones are supported. These are available for $49.99 and $64.99.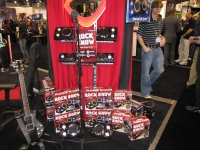 RocStor:
Rocstor
is an unfamiliar company to me. Rocstor manufactures various hard drive enclosures and storage accessories. Their external enclosures range from single drive enclosures to four hard drive NAS enclosures.
The Rocstor Airhawk comes in three models with different connections. The A3 has USB 2.0, the A5 includes 2 Firewire 400 and USB 2.0, and the final model A9 has Firewire 800, Firewire 400, and USB 2.0. Each of these three models is available in 250GB, 320GB, and 500GB sizes. Other features include shock resistance, USB power, bootable, and small enough to fit in a pocket.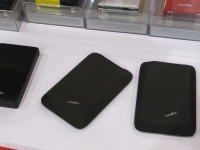 Multi-drive enclosures include the ArcticCroc and RocSecure. The ArcticCroc comes in two and four drive models, both of which have similar features. These features include eSATA, USB 2.0, 1394b, 1394a, Striping, Spanning, Mirroring, and JBOD RAID modes. The RocSecure line comes in many models, with USB 2.0, eSATA and Firewire, and hardware encryption.