CES is finally over (has been for several days), and a lot of things were shown. Some were really cool new things, while others were just updated models or those with an increase in speed/capacity. While still cool, showing pictures of new SSDs is boring. Until we can get them in our hands for benchmarks, they are just small boxes. Instead of focusing on the many SSDs or USB 3.0 enclosures displayed, we will focus on a broad range of other new products in this article.


If there are questions regarding any of the items presented here, please feel free to ask in the forum or check out the manufacturer's website for more information.
Targus:
Targus
is celebrating more than 25 years in business. Their product line-up mainly consists of high quality laptop cases with a wide range of prices. However, cases are not their only products. Various accessories include keyboards, mice, docking stations, universal power, and security.
Targus is preparing to introduce a new universal power adapter. This new adapter will plug directly into the wall, and includes a detachable 6.5 foot cable to connect to the selected devices. The last six inches of the cable breaks off into two cables. One of the cable ends (it does not matter which) will provide power to a laptop/netbook or other device, while the other cable end will provide power to a low power device such as a phone, or USB powered device. Targus has not tested this powering two laptops, however it has a 90W max output, so it is not recommended.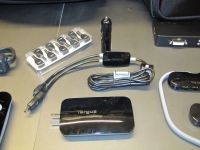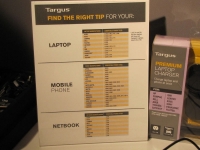 One of the main features of the Targus universal power adapter is the user selectable tips. Each tip is manufactured to work with the selected device and provide the proper power. It ships with 10 tips which should cover most of the major laptop manufacturers and a mini-USB tip. As the above right picture shows, Targus also has many tips available to charge mobile phones and netbooks. If the tip you need is not included, Targus has a "Tips for Life" program with allows the user to get free tips for other devices (including future laptops and mobile phones). Simply pay a shipping and handling fee and Targus will ship you the power tip you need.
Targus also recently redesigned their mice. They have a wide range of mice available, ranging from standard corded, retractable corded, optical, laser, and Bluetooth. Each of these have a similar look and feel to them. While the size might be different, they all look nearly identical. A shiny black case, with a light gray base. One of these new mice is a retractable cable mouse, while not necessarily a new feature (retractable cables have been around for a while), this new one will retract the cable and store it inside the mouse, while the USB connector attaches (with a small magnet) to the base of the mouse.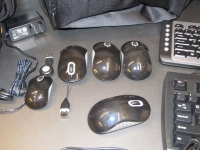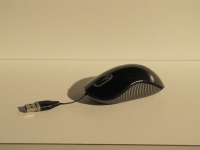 You can see more Targus products at many local stores such as Walmart, Best Buy, and Fry's. Targus also provides an online store if you are unable to locate them locally.