Conclusion:
Overall the Thermaltake BigTyp 14 Pro is an impressive cooler ready to tackle the cooling duties of a gaming rig or an HTPC. It may be one of the widest coolers I have used, but its compact height makes it appealing for use in cases that are slimmer than many tower coolers can fit into.
The
Thermaltake
promotional material claims the BigTyp 14 Pro is "completely silent", which just isn't true at any speed with the included fan. Despite this, I was quite pleased with the performance and noise level at the lowest speed setting. When I switched the stock fan out for a 92mm fan mounted under the cooling fins (blowing upward) things got even better. This is a simple Thermaltake case fan with a 4-pin Molex power lead, so speed readings were not monitored. But, the cooler was now actually about silent and the load temperature dropped by 1-2 degrees. I no longer had the secondary effect of cool air blowing across the motherboard components, but I didn't really care since the cooler was now cooler, quieter, and lower profile.


The main downside to the BigTyp 14 Pro is the noise level. It is loud at full speed (1600RPM), but thanks to the included fan speed controller you can lower the speed to 1000RPM and kill off the bulk of the noise while only slightly impacting CPU temperatures. It is never silent with the stock fan, but with some modification you can make it happen.
Searching the Internet doesn't find many places with the BigTyp 14 Pro in stock. I found it at Tiger Direct and Amazon.com for $69.99, and at Directron.com on sale for $57.99. $70 seems like a bit much, and Directron.com's sale price might be about the limit of what I would consider competitive. But, if you are looking for a high performance cooler to fit into a tighter space, this might be worth a bit more to you since there aren't a whole lot of choices.
Considering the performance, unique design, ability to be modified to accept an underside mounted fan, and the fact that it actually fit into my HTPC, the
Thermaltake
BigTyp 14 Pro CPU cooler earns the Bigbruin.com award of "Highly Recommended".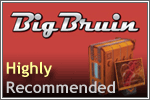 Pros:
» Solid cooling performance
» Built in fan speed controller
» Can run quietly and still provide decent cooling
» A big cooler that actually fit inside an HTPC
» Can be modified to use a 92mm fan mounted below the cooling fins
» 92mm underside mounted fan was quieter than stock fan
» Load temperatures were lower with 92mm stock fan (blowing upward)
Cons:
» Loud at full speed
» Advertised as "completely silent", which isn't true at any speed with included fan
» Large wingspan could create interference issues in some cases
Please drop by the Bigbruin.com Forum and feel free to post any
comments or questions
.