Conclusion:
The
Crucial
Ballistix Sport VLP (Very Low Profile) 16GB 1600MHz DDR3 Memory Kit tends to rank it just a notch lower than its cousins - the Crucial Tactical LP and Crucial Elite memory kits. Overclocking the Sport VLP kit from 1600MHz to 1866MHz and 10-10-10-27 timings at 1.5v increased the clock speed by over 16% and provided a performance boost of up to 14% during testing.


The
Bigbruin.com shopping engine
finds this memory kit for sale at Crucial.com for about $120. Looking around for other options finds the Crucial Sport VLP kit is currently for sale at $75.99 at Newegg.com, which is less than the previously reviewed Tactical LP series ($104.99). Price to performance advantage certainly goes to the Sport VLP 16GB kit. Other 16GB 1600MHz DDR3 kits can be purchased for about $55, so by the basic specifications this kit does not provide the best price:performance ratio. But, we feel this is fairly well offset by the 1.35v stock voltage and the very low profile design.
The Crucial Ballistix Sport VLP 16GB 1600MHz DDR3 memory kit earns the Bigbruin.com "Recommended" award. It performs very closely to its more expensive cousin - the Crucial Tactical LP kit, with an even lower profile design.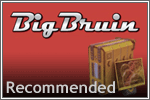 Pros:
» Stock voltage of 1.35v, lower cost competitors use 1.5v
» Capable of running at 1866MHz, at CL10 timings with 1.5v
» Very Low profile design, even lower profile than the Crucial Tactical LP kit reviewed early December
Cons:
» Fails to provide the best price:performance ratio, with other 16GB kits selling for about $55.
Please drop by the Bigbruin.com Forum and feel free to post any
comments or questions
.