Conclusion:
The
Seagate
8TB Backup Plus Hub is a very appealing option for anyone that needs a large capacity device to backup their computer, and other devices. It is fast, easy to use, comes with very useful software, and the price is competitive. While testing confirmed it is definitely fast enough to use for frequent access to files you use often, I would say it is best suited for archiving files and the USB 3.0 speeds available will just make the process of getting up to 8TB backed up a quicker operation.
What was not mentioned during testing is that the USB ports on the front of the enclosure are also USB 3.0 and can offer very quick transfer rates to attached devices. I was concerned that since the ports were colored black and not blue that they were just USB 2.0 compatible, but connecting a USB 3.0 flash drive and running CrystalDiskMark again proved that was not the case and you will get the full USB 3.0 performance out of your drives when connected to these ports.
As far as ease of use goes - the basic operation of the drive is simply a matter of plug and play. Installing the Dashboard software unlocks a whole new set of convenient features, as it is capable of much more than your typical backup software. While you can backup files from the host computer with ease, the added features of having mobile device backups and social media backups is useful and very cool. Speaking of mobile devices, the "Plus Hub" part of the product name is no only for accessing other USB storage devices, but you can use them for charging your mobile devices. And unlike trying to charge my phone straight off my PC's USB ports where the phone screen says "Charging Slowly", when charging my phone off the Backup Plus Hub I get the message "Charging", which tells me it is getting the right Amperage and will charge much faster.


Hunting around finds that $230 (US) is about what you could expect to pay at any popular online retailer. Bestbuy via
eBay
may be worth checking out, as their price is currently $230 as well, but it recently dipped to $200 with free shipping. That is definitely an impressive price. Say you had an external enclosure you wanted to make use of, and you were going to buy an 8TB drive to put inside. The cheapest 8TB drive listed at
Newegg Business
is about $240, so you will spend even more going that route. Maybe you have an enclosure that holds two drives, so you decide to choose two 4TB drives. - you're still around $240 for the pair of cheapest drives with that strategy. And in either case, you still need an enclosure and backup software to use.
With all things considered, the
Seagate
8TB Backup Plus Hub earns the Bigbruin.com "Highly Recommended" and "Good Value" awards.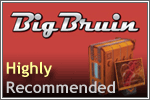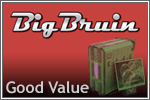 Pros:
» Drive offers excellent transfer rates thanks to USB 3.0 interface
» Hub also offers USB 3.0 transfer speeds to your compatible devices
» Easy to setup
» Includes very well implemented software able to backup a variety of devices in a variety of ways
» Hub can also be used to charge your mobile devices
» Sells for about $230, and has recently been available for as low as $200
Cons:
» Users must remember to be diligent about backups, as any drive could die, and losing 8TB all at once could be very painful
Please drop by the Bigbruin.com Forum and feel free to post any
comments or questions
.