Conclusion:
The
ASUS
P6X58D-E motherboard offers everything you would expect from an Intel X58 motherboard, plus a few extras to really add to its appeal. Inclusion of an NEC USB 3.0 controller and a Marvell SATA 6Gbps controller make sure your high speed storage needs are well covered. The BIOS offers enough settings to let the extreme overclocker get the most out of their system, while also making it fairly easy for a novice to bump up their performance without too much effort. Enthusiasts will also like having the onboard power and CMOS clear buttons, while the MemOK! button should make getting the system up and running with just about any DDR3 memory possible.
As far as performance is concerned, the P6X58D-E tested at about the same level as another X58 board, which perhaps should be expected. What the P6X58D-E offered that the other board did not was the ability to overclock with minimal effort. The processor and memory used in this review had never seen the speeds that were achieved thanks to this board, and while 4GHz was the final destination for my overclocking adventure, I am sure it could go higher.
The overclocking features should appeal to gamers, but the multi-GPU support has to be the key to that market. With support for NVIDIA's SLI and AMD's CrossFireX using up to three cards, the only excuse for poor performance in games might be between the keyboard and the chair.


On the downside, I would have liked to have seen at least one eSATA port included. Whether it was integrated in to the rear I/O panel, or provided as an expansion bracket to tap in to one the eight internal headers, it just seems like a common item for an enthusiast grade board that was just overlooked. Another item that was missing, but perhaps deservedly so was an IDE header. I only noticed because I wanted to use an IDE DVD drive to install drivers, but wound up scavenging for a SATA drive. If you happen to run any IDE drives, be prepared to make an upgrade either in the form of a controller card or new drives!
Shopping around finds the ASUS P6X58D-E LGA 1366 Intel X58 motherboard at places like
Newegg.com for $239.99
. While you can definitely find an X58 board for less, considering all the features and the proven performance of this unit I would say the price is quite appealing. Other high end X58 boards easily cost more, including the ASUS P6X58D Premium which offers a handful of extras for $60 more.
The bottom line is that the
ASUS
P6X58D-E LGA 1366 Intel X58 motherboard is an impressive motherboard that is worthy of consideration by anyone shopping for an LGA 1366 at the higher end of the price spectrum. For all it has to offer, it earns the Bigbruin.com "Recommended" and "Gaming Approved" awards.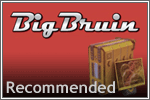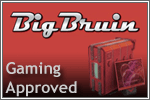 Pros:
» SATA 6 Gbps supprt
» USB 3.0 support
» Multi-GPU support for SLI and CrossFireX
» Onboard power and CMOS clear buttons
» Memory boot compatibility button on motherboard (MemOK!)
» Overclocking is extremely easy
» BIOS is rich with tweaking options to allow for optimal performance
Cons:
» No eSATA port provided (on rear panel or via expansion bracket)
» IDE has been retired (which is fine unless your hanging on to an IDE optical drive)
» Extensive number of BIOS features could easily overwhelm you
Please drop by the Bigbruin.com Forum and feel free to post any
comments or questions
.