Conclusion:
When I think of ASUS, the first thing that comes to mind are their award winning motherboards and video cards. In the past, I wouldn't have even considered recommending them to people asking me my opinions about routers. With the ASUS RT-N56U, my opinion has changed. While I have been happy with the transmission rate of my D-Link router, with the ASUS RT-N56U my speeds have increased noticeably. Just by switching routers, internal wireless and wired transfers are all quicker, while my Internet connection is on average more than 1MB/s faster. Needless to say I was pleasantly surprised and very pleased.
For those that have the need for highly reliable, high speed LAN connections, as well as high speed WAN connections, the ASUS RT-N56U is your kind of router. The wired LAN connections are all capable of Gigabit speed transfers, while the wireless capabilities are equally impressive, featuring dual-band 5GHz and 2.4GHz speeds that can allow for up to 300Mbps concurrently. Even with multiple users connected, there will be plenty of bandwidth for your Internet traffic and high definition multimedia streams. And if you need a convenient way to get your multimedia files shared on your local network, the two USB ports on the RT-N56U can be used for this purpose, and will allow for up to 15MB/s transfers from your USB storage devices.


The RT-N56U's ease of configuration makes it so that anybody can quickly setup a secured wireless network, while providing the options necessary for the network "experts". While I am not what I would consider an expert, the only thing I couldn't find in the configuration was setting up a "Guest" network. The only concrete thing I would like to see improved is with the scheduler. There is just one schedule possible, while I would be interested in seeing options for week days, weekends, and special schedules. I find it extremely helpful to have multiple on/off times especially with kids in the house, and it is also helpful to be able to quickly and easily switch between these schedules.
The ASUS RT-N56U dual-band wireless-N600 Gigabit router can be found online for around $125 (US) according to the
Bigbruin.com shopping pages
. For a router with the features included in the RT-N56U, this is a competitive price. There are cheaper routers that may include some of the same features, but the ASUS RT-N56U offers a complete package for high performance wired and wireless connections with excellent range.
With all the included features, the ASUS RT-N56U earns the Bigbruin.com "Highly Recommended" award.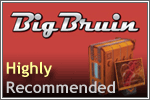 Pros:
» Good signal strength
» Dual USB ports for sharing external storage, printers, or other devices
» Great performance
» Gigabit wired connections
» Dual band 5GHz & 2.4GHz wireless-N
» Great wireless range
Cons:
» Scheduler could be better
» No external antennas or connections to add your own
Please drop by the Bigbruin.com Forum and feel free to post any
comments or questions
.